Murder in Montmartre (An Aimée Leduc Investigation #6) (Paperback)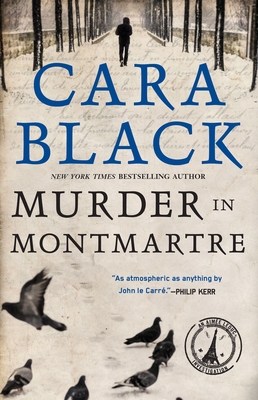 Other Books in Series
This is book number 6 in the An Aimée Leduc Investigation series.
Description
---
Parisian P.I. Aimée Leduc strives to clear the name of a childhood friend, now a policewoman, who's charged with shooting her partner

Aimée Leduc is having a bad day. First, she comes home from work at her Paris detective agency to learn that her boyfriend is leaving her. She goes out for a drink with her friend Laure, a police officer, but Laure's patrol partner, Jacques, interrupts, saying he needs to talk to Laure urgently. The two leave the bar, and when they don't return, Aimée follows Laure's path and finds her sprawled on a snowy rooftop, not far from Jacques, who is bleeding from a fatal gunshot wound.

When the police arrive, they arrest Laure for murder. No one is interested in helping Aimée figure out the truth. As she chases down increasingly dangerous leads in the effort to free her friend, Aimée stumbles into a web of Corsican nationalists, separatists, gangsters, and artists. Could Jacques's murder and Laure's arrest be part of a much bigger cover-up?
About the Author
---
Cara Black is the author of sixteen books in the New York Times bestselling Aimée Leduc series. She lives in San Francisco with her husband and visits Paris frequently.
Praise For…
---
Praise for Murder in Montmartre

"I always wondered why I used to quicken my step in Montmartre. After reading Cara Black's wonderful book, now I know. As atmospheric as anything by John le Carré."—Philip Kerr, author of Berlin Noir

"As always, the Parisian setting is vividly evoked, the heroine's wardrobe is chic, and the action is non-stop. The story has its Nancy Drew elements—secret passageways, confrontations in darkened graveyards, chases across cobblestones in spike heels . . . If you long for the adventure-filled stories that got you hooked on reading in the first place, you'll enjoy this."
—Mystery Scene

"Chilling . . . The book vividly depicts a gritty, working-class part of Paris . . . Black succeeds in making the reader feel the damp, the snow, the fear."
—Publishers Weekly
 

Praise for the New York Times bestselling Aimée Leduc series

"If you've always wanted to visit Paris, skip the air fare and read Cara Black . . . instead."
—Val McDermid

"Fine characters, good suspense, but, best of all, they are transcendently, seductively, irresistibly French. If you can't go, these will do fine. Or, better, go and bring them with you."
—Alan Furst

"She makes Paris come alive as no one else has since Georges Simenon."
—Stuart Kaminsky

"If you've never been to Paris, or you'd like to go back soon, let Cara Black transport you there."
—Linda Fairstein

"Charming. . . . Aimée is one of those blithe spirits who can walk you through the city's historical streets and byways with their eyes closed."
—The New York Times Book Review