The Anti-Aging Plan: The Nutrient-Rich, Low-Calorie Way of Eating for a Longer Life--The Only Diet Scientifically Proven to Extend (Paperback)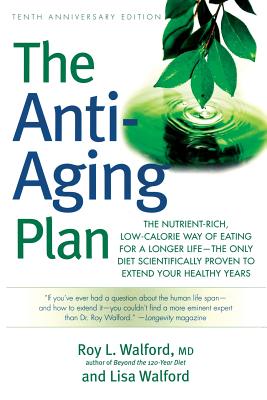 $18.99

Usually Ships in 1-5 Days
Description
---
The late Dr. Roy L. Walford spent much of his life's work researching low-calorie diets, and is now recognized as a pioneer of what is widely recognized as "calorie restriction" (CR)—a diet consisting of fewer calories while maintaining adequate nutrition. In The Anti-Aging Plan, his landmark book first published in 1994, Dr. Walford presents the results of his studies and clearly describes how the principles of nutrient-rich caloric limitation can be applied to everyday dieting habits. In the latter half of the book, Dr. Walford and his daughter Lisa, a chef and yoga instructor, offer over one hundred delicious recipe ideas that apply to Dr. Walford's diet plan.
About the Author
---
Roy L. Walford, M.D., (1924-2004) was a gerontologist who pioneered research on effects of a low-calorie diet on aging. In addition to The Anti-Aging Plan he was the author of seven other books, including the bestsellers Maximum Lifespan and The 120 Year Diet. He received his M.D. from the University of Chicago in 1948 and was professor of pathology at the UCLA School of Medicine. Author of 300 scientific articles, Walford was a delegate to the White House Conference on Aging, a member of the National Academy of Sciences Committee on Aging, and is still considered one of America's leading experts on gerontology.

Lisa Walford started cooking seriously at age fifteen. She has traveled extensively throughout Europe and Asia, where she has sampled foods and explored cooking techniques which have influenced her own low-fat cooking style. Walford is a certified yoga instructor with thirteen years of experience, specializing in therapeutic yoga. She is coauthor of The CR Diet and also codeveloped the Windows version of Dr. Walford's Interactive Diet Planner.