Rick Steves' Travel as a Political Act (Paperback)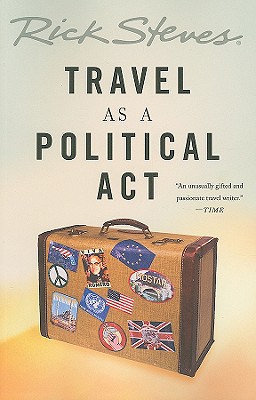 Description
---
Travel connects people with people. It helps us fit more comfortably and compatibly into a shrinking world. And it inspires creative new solutions to persistent problems facing our nation. We can t understand our world without experiencing it. Traveling as a Political Act helps us take that first step.
There's more to travel than good-value hotels, great art, and tasty cuisine. Americans who travel as a political act can have the time of their lives and come home smarter with a better understanding of the interconnectedness of today's world and just how our nation fits in.
In his new book, acclaimed travel writer Rick Steves explains how to travel more thoughtfully to any destination. He shares a series of field reports from Europe, Central America, Asia, and the Middle East to show how his travels have shaped his politics and broadened his perspective.
www.ricksteves.com
About the Author
---
Rick Steves is the host, writer and producer of the popular Oregon Public Broadcasting television series Rick Steves' Europe. Over the past 15 years, Steves has hosted nearly 100 travel shows for public television (most still airing in rebroadcasts) and numerous pledge specials. In 2005 Steves launched a weekly public radio program, Travel with Rick Steves. He has also written twelve country guidebooks, nine city and regional guides, six phrase books, and co-authored Europe 101: History and Art for Travelers. His guidebook to Italy is the bestselling international guidebook in the U.S. In 1999, he tackled a new genre of travel writing with his anecdotal Postcards from Europe, recounting his favorite moments from 25 years of travel. He lives in Edmonds, Washington.