Breaking into Japanese Literature: Seven Modern Classics in Parallel Text - Revised Edition (Large Print / Paperback)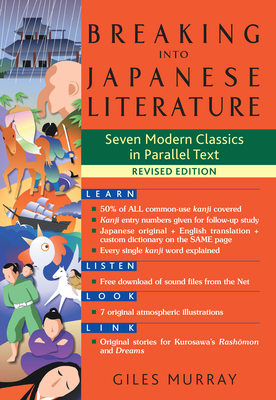 $20.95

Usually Ships in 1-5 Days
Description
---
A collection of seven great works of Japanese literature in the original language, along with the English translation and a newly-revised custom dictionary - plus downloadable audio.
     
Breaking into Japanese Literature lets readers enjoy seven classic stories in the original Japanese. thanks to a unique 2-page layout featuring the Japanese text in large type, an easy-to-follow English translation, and a custom dictionary, newly revised for this edition. Also includes downloadable audio, notes about the stories and authors, and original illustrations.
About the Author
---
Giles Murray lives in Tokyo, where he works as a writer, translator, and copywriter. He is the author of several other innovative language-study books published by Kodansha: 13 Secrets for Speaking Fluent Japanese and Exploring Japanese Literature. He's also translated a number of works of fiction including In the Pool by Hideo Okuda and Newcomer by Keigo Higashino.