The Great Game: The Struggle for Empire in Central Asia (Paperback)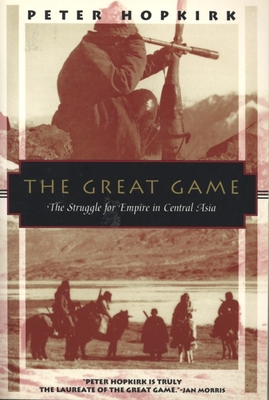 $18.00
Email or call for price
Description
---
THE GREATGAME: THE EPIC STORY BEHIND TODAY'S HEADLINES


Peter Hopkirk's spellbinding account of the great imperial struggle for supremacy in Central Asoa has been hailed as essential reading with that era's legacy playing itself out today.


The Great Game between Victorian Britain and Tsarist Russia was fought across desolate terrain from the Caucasus to China, over the lonely passes of the Parmirs and Karakorams, in the blazing Kerman and Helmund deserts, and through the caravan towns of the old Silk Road—both powers scrambling to control access to the riches of India and the East. When play first began, the frontiers of Russia and British India lay 2000 miles apart; by the end, this distance had shrunk to twenty miles at some points. Now, in the vacuum left by the disintegration of the Soviet Union, there is once again talk of Russian soldiers "dipping their toes in the Indian Ocean."


The Washington Post has said that "every story Peter Hopkirk touches is totally engrossing." In this gripping narrative he recounts a breathtaking tale of espionage and treachery through the actual experiences of its colorful characters. Based on meticulous scholarship and on-the-spot research, this is the history at the core of today's geopolitics.
About the Author
---
PETER HOPKIRK is the author of Like Hidden Fire: The Plot to Bring Down the British Empire, Trespassers on the Roof of the World: The Race for Lhasa, and two other books. A staff writer for The Times of London for nineteen years, five as its chief reporter, he is a Middle and Far East specialist.
Praise For…
---
Written with engrossing flair... Hopkirk tells the story well, playing up the romance and glamour while never losing sight of the overarching historical picture."—Andrew Leonard, San Francisco Chronicle



"Those who enjoy vividly told tales of derring-do and seek a clear understanding of the history of the emerging central Asian countries will find this a glorious book." —Byron Farwell, The New York Times Book Review