George Rickey: A Life in Balance (Hardcover)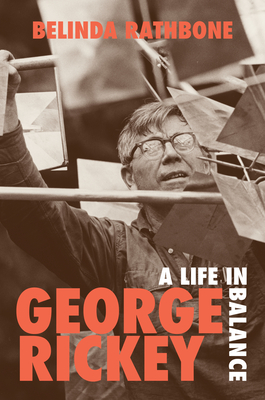 $40.00

Usually Ships in 1-5 Days
Description
---
The first biography of George Rickey, one of the greatest kinetic sculptors of the 20th century. His moving blades, squares, triangles, and circles can be found in museums and public spaces around the world, from bucolic landscapes to the streets of New York City. Now, here is the story of his life, his times, and his vision of balance that created something new―sculpture that is defined by movement.
Before his death in 2002, George Rickey created more than 3,000 moving sculptures, including hundreds of major outdoor installations. His "useless machines," as he called them, achieved complete rotation, used multiple variations of the pendulum, and delighted viewers with the joyride effects of conical movement.
George Rickey: A Life in Balance
follows the life of a renowned artist―first a painter, then a sculptor―who found inspiration all around him―as a child visiting the Singer Sewing Machine factory managed by his father, in his adventurous youth in the London and Paris art studios of the 1920s, as an engineer in the Army Air Corps during World War II, and later as a pioneer in academic art programs around the United States when he embarked on the sculpture he became famous for. But this is not only the story of a single artist's creativity and achievement but of Rickey's life in the larger context of the twentieth century: from Depression-era America to the upheaval of World War II, from the rise of New York as the world's art capital at mid-century to the tumultuous 1960s, when Rickey emerged as an international figure rubbing elbows with Alexander Calder, David Smith, Christo, and many others. It is also the story of an exceptional marriage and of Rickey's charismatic, devoted wife, Edith Leighton, who managed her husband's career and reputation in the high-powered art circles of New York, Berlin, and Los Angeles. Belinda Rathbone (author of
The Boston Raphael
and
Walker Evans: A Biography
) has captured the spirit of an artist and his world in this deeply researched and engrossing biography.
George Rickey: A Life in Balance
is for any reader fascinated by the lives of artists, the creation of enduring art, or twentieth century modernism. Includes 30 photographs that document Rickey's life and work.