Responses to Miscellaneous Questions (Works of Saint Augustine #12) (Hardcover)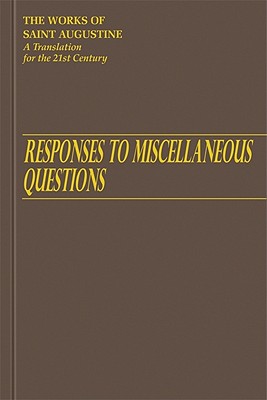 $56.00
Email or call for price
Other Books in Series
This is book number 12 in the Works of Saint Augustine series.
Description
---
This volume contains three books: Miscellany of Eighty-Three Questions, Miscellany of Questions in Response to Simplician, and Eight Questions of Dulcitius.
Responses to Miscellaneous Questions contains three works of Saint Augustine of Hippo:
Eighty-Three Different Questions - De diversis quaestionibus octoginta tribus
To Simplicianus, on Various Questions - Ad Simplicianum de diversis quaestionibus
Eight Questions of Dulcitius - De octo Dulcitii quaestionibus
These three of Augustine's works show him responding to a wide variety of questions posed by different persons.
The Miscellany of Eighty-Three Questions was compiled over the course of several years and deals with philosophical, theological and exegetical matters that had been raised in the religious community that Augustine founded and headed. Some of these matters are handled very briefly, some at great length. Augustine's exegesis is particularly interesting.
The Miscellany of Questions in Response to Simplician was written at the request of the saintly bishop of Milan who followed Ambrose in that role. This work, in the form of two books, is crucially important for understanding Augustine's theology of grace and how he arrived at his position on this issue, which is certainly his most important contribution to Western theology, but the questions are not limited to a discussion of grace.
Finally, The Eight Questions of Dulcitius includes responses to questions in which, uniquely, Augustine quotes himself at length.
About the Author
---
Augustine of Hippo is one of the greatest thinkers and writers in the Western world. After becoming a Christian he was made bishop of Hippo in Africa, where he was influential in civil and church affairs. His more than 100 books, 200 letters, and 500 sermons have left a lasting impact on Western philosophy and culture. His classic and best-selling works include The Confessions, The Trinity, The City of God, and Teaching Christianity.