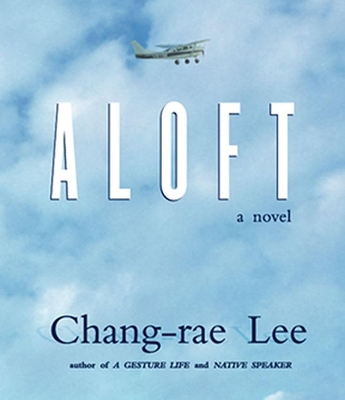 Description
---
New York Times bestseller Aloft follows the life of a suburban, white, middle-class man during a time of family crisis. Jerry's favorite diversion is to take his small plane and fly solo over Long Island. When his daughter and her fiancé arrive from Oregon to announce their marriage plans Theresa's dangerous pregnancy, he thinks back over his life and begins to face his disengagement with it and with his relationships with others: with his deceased wife, the circumstances of whose death has never fully admitted to; with his former girlfriend, whom he still longs for; with his pregnant daughter, who refuses to address the cancer that is killing her; with his son, who is losing the family business; and with his father, who is in a nursing home. Aloft is a quiet yet intense study of family, the American dream, and the American character.
About the Author
---
Since the publication of Native Speaker, CHANG-RAE LEE has emerged as one of the most respected and brightest literary stars of his generation. His novel A Gesture Life was the winner of numerous awards including the Asian-American Literary Award. Native Speaker was the winner of the Hemingway Foundation/Pen Award for first fiction, and American Book Award from the Before Columbus Foundation, the Oregon Book Award, the B&N "Discover Great New Writers" Award, and QPB's New Voices Award. Selected by The New Yorker as one of the twenty best writers under forty, Chang-rae Lee teaches writing at Princeton University.
DON LESLIE has appeared on and off Broadway as well as in over fifteen feature films and various episodic television shows. He is an accomplished audiobook narrator and also voices commercials, on-air narrations, and movie trailers.
Praise For…
---
Leslie's reading matches the superior writing. Almost immediately he assumes Battle's full persona; he is equally skillful with the other characters, using volume, pitch, nuance, and pauses to great effect. A fine pairing of a superior novel and an exceptional narrator.