Tell Me What to Eat to Help Prevent Colon Cancer (Tell Me What to Eat series) (Paperback)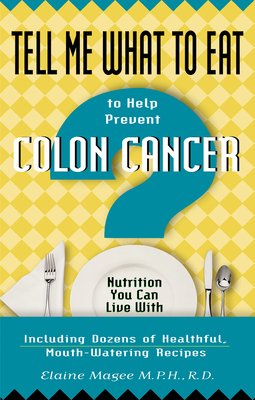 $13.99
Email or call for price
Description
---
Elaine Magee gives you all the information you can never seem to understand when the doctor rattles it off, and she answers all the questions you ever wanted to ask a dietitian about preventing colon cancer. You will find a host of specific recommendations-what to eat, what to avoid, and how to incorporate these changes into your lifestyle.
Tell Me What to Eat to Help Prevent Colon Cancer begins with an overview of colon cancer in all its forms. Readers get a detailed yet completely understandable explanation of how the cancer begins and how it spreads-an explanation that is based on the latest medical information. Readers gain a better understanding of what colon cancer is and what actions they can take now to help prevent it.
Also included are dozens of healthful, practical, tasty recipes focusing on fiber, and power produce items that anyone can incorporate in their diet.
About the Author
---
Elaine Magee, MPH, RD, nationally known as the Recipe Doctor (www.recipedoctor.com), is currently the Wellness and Performance Nutritionist for Stanford University and the nutrition guru for KSFO Radio's morning show in Northern California. Elaine was a nutrition expert/writer for WebMD.com for 9 years and has written more than 25 books. Her medical nutrition series?including Tell Me What to Eat books for irritable bowel syndrome, acid reflux, heart disease, and five other ailments?continues to sell all over the world. Elaine has appeared on hundreds of radio and television shows and has contributed articles and recipes to a wide variety of magazines and Websites.