Persia Blues, Volume 1: Leaving Home (Paperback)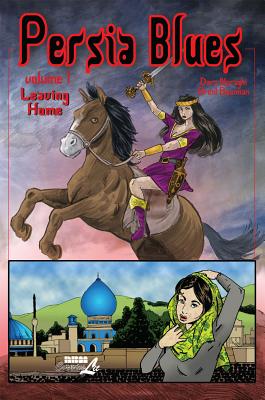 for information about purchasing this book, please contact orders@bookpassage.com
Other Books in Series
This is book number 1 in the Persia Blues series.
Description
---
Minoo Shirazi is a rebellious young Iranian woman struggling to define herself amid the strict social conventions of an oppressive regime and the wishes of an overbearing father. She is also a free-spirited adventurer in a fantasy world, a place where aspects of modern America and ancient Persia meld into a unique landscape. Blending Eastern and Western civilization with elements of ancient Persian mythology, Persia Blues explores the intersections of guilt and freedom, family and self, ancient myths and modern enigmas.
About the Author
---
Dara Naraghi is the author of the graphic novels Lifelike, Terminator: Salvation, and Witch & Wizard: Battle for Shadowland. He is a founding member of the comic book writers/artists collective known as PANEL, with whom he has produced 20 volumes of their comics' anthology. Brent Bowman is an illustrator whose work has appeared in publications by Image Comics and Caliber Press, as well as the collectible card game Age of Empires. They both live in Columbus, Ohio.
Praise For…
---
"There are so many different visual styles here, and Naraghi is such a versatile storyteller, that they barely seem to be part of the same series, but there's something that links them together, a great storyteller's sensibility."  —Cory Doctorow, Nebula & Locus Award–winning novelist, Boinboing.net

"Naraghi's got a nice feel for detective stories and a good ear for unforced dialogue."  —Steven Grant, writer/columnist, ComicBookResources.com

"Both storylines are engaging and well-executed. It's good — it's very good."  —J. Caleb Mozocco, Comic Book Resources

"A huge treat. It's difficult to select in which storyline Bowman's artistry is better. In the fantasy story, his lush pencils are dark, swirled, majestic, full of portent. In short, they're simply wonderful. But then again, how he captures Iran's city of Shiraz, as well as simple scenes of a family at home or people interacting, is impressively subtle and evocative. This is the first book in a planned trilogy, and both storylines reach satisfactory cliffhangers that leave us eager for another volume."  —John Hogan, Graphic Novel Reporter

"A story with settings rare for an American adventure story. And that setting alone is enough for me to recommend this book." —Andrew Smith, Scripps Howard Papers

"A unique kind of adventure." —Kat Kan, VOYA