Green from the Ground Up: Sustainable, Healthy, and Energy-Efficient Home Construction (Builder's Guide) (Paperback)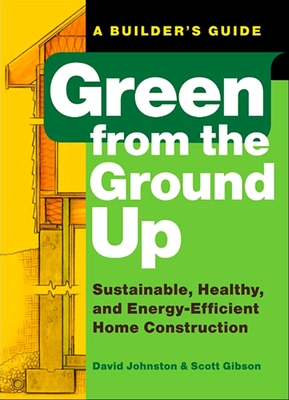 $29.95

Usually Ships in 1-5 Days
Description
---
Green construction is the building trend of the decade. In direct response to the growing demand for sustainable, healthy, and energy-efficient homes, David Johnston and Scott Gibson present the most forward-thinking theories and the best proven methods of new and remodeled green construction. They begin with down-to-earth explanations of green building basics and move on to site planning, materials selection, energy efficiency, and indoor air quality -- detailing along the way every step in design and construction, from framing to finishes.
A must-have reference for contractors who want to remain competitive, Green from the Ground Up is also a remarkable resource for homeowners who require the clearest and most thorough green building information available.
About the Author
---
David Johnston is a leader in the green building movement, transforming the way we think about the American home. His approach to green building has been embraced by building professionals, municipalities, homeowners, and sustainability advocates nationwide. He is the founder of www.whatsworking.com and www.greenbuilding.com. Scott Gibson is a freelance writer and contributing editor to "Fine Homebuilding "magazine.
Praise For…
---
"A refreshing and comprehensive step-by-step course in green building, packed with both solid building science and common sense solutions."
-Helen English, executive director of Sustainable Buildings Industry Council
""Green From the Ground Up" overflows with details and practical content that is hard to find anywhere else...an essential resource for any building professional that will be a valuable reference tool for years to come."
-Brian Gitt, CEO of Build It Green
"Within 5 to 10 years, all contractors will need to know how to execute a green remodel. From framing and foundations to plumbing and interior finishes, "Green From the Ground Up" puts that information in our hands."
-Dan Taddei, director of education, National Association of the Remodeling Industry
Labelled a Builder's Guide, this book is the next step up from the Dummies tome. It's written for builders and architects, but is a valuable resource for the advanced DIY person or the homeowner who wants to talk turkey with the pros on eco-friendly construction and energy efficiency. Topics range from selecting your building site and landscaping to tankless hot water systems and the insulating value of different window frame materials. --Ottawa Citizen (Canada)