Hank Ketcham's Complete Dennis the Menace 1955-1956 (Hardcover)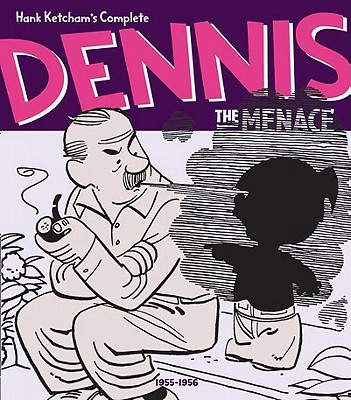 $24.95
Email or call for price
Description
---
Hank Ketcham's Complete Dennis the Menace was Fantagraphics' second "complete" series of newspaper strip collections and one of the most successful books in the company's history, greeted by reviews with praise similar to that garnered by The Complete Peanuts. We are proud to present the third volume of Hank Ketcham's phenomenal panel covering the years 1955 and 1956.

Dennis the Menace began on March 14, 1951 and he went on to become the second most popular cartoon kid in the world (after Charlie Brown). The timing was perfect: the post-war generation, at the height of the baby boom, embraced the perennial troublemaker and turned Dennis into a global publishing, merchandising and multi-media phenomenon, with over 50 million book collections sold, the fondly remembered live-action TV show from 1959-63, two major motion pictures in the '90s, a full-length animated film in 2002, and many other media tie-ins. The strip currently is enjoyed by readers of over 1,000 newspapers every day.

Ketcham captured the mischievousness, rambunctiousness, and anarchy of a kid's world better than any other cartoonist. The strip appeals to both parents and children -while parents shake their head ruefully at how accurately Ketcham caught the essence of children's natural zest for mayhem, children identify with Dennis and the chaos that he leaves in his wake. Ketcham's gags are funny, subtle and touching, and executed with a vivacious, exquisite line.

Ketcham drew Dennis the Menace from 1951 to 1994, when he retired and let his assistant take over the strip. This third volume of Hank Ketcham's Complete Dennis the Menace publishes every single panel strip from 1955 and 1956 in one handsome and thick hardcover volume. Ketcham's legendary pen and ink work achieves its full flowering in this volume as do the various situations and themes that Ketcham would return to: This volume includes the first "split screen" (two-panel strip) that Ketcham would occasionally use; Dennis actually flirts with a girl; he rats dad out to Mom; exacerbates confrontations between Dad and the police; and stymies hapless baby- sitters. Oh, and Mr. Wilson finally comes front-and-center as Dennis' #1 victim. Also included is one historic and highly unusual panel is devoted to a lovingly rendered caricature of President Dwight D. Eisenhower (Ike) answering the phone and asking, "You have a collect call from whom? Dennis who?," which was bumped by newspapers who considered it in poor taste because Ike had just suffered a heart attack (the panel had been drawn and slotted for September 1955 long before Ike suffered the stroke, of course).