The Unification Church: Studies in Contemporary Religion (Paperback)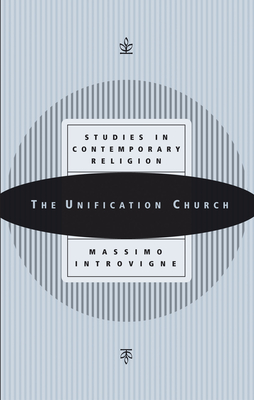 Description
---
 Unificationists believe in "reconciling the internal truth pursued by religion with the external truth pursued by science." They promote anti-Communism, family values, and the teachings of Jesus Christ and the Hebrew prophets.
Where they depart from traditional Christianity is in their acceptance of the Divine Principle as a companion to the Bible and in their assertion that founder Rev. Sun Myung Moon is Lord of the Second Advent, that with his wife (together the "True Parents"), Original Sin is conquered through special blessings.
Since 1954 Unificationism has evolved toward a more normative approach to worship and lifestyle, if not belief—a point that Italian scholar Massimo Introvigne emphasizes in his balanced overview of the church's history, doctrine, spirituality, missionary activities, and controversies. He notes that in doctrine Unificationism has moved away from mainstream churches toward increased emphasis on contact with the spirit world, numerology, and construction of a modern "Garden of Eden" in Brazil.
About the Author
---
 Massimo Introvigne is managing director of the Center for Studies on New Religions (CESNUR), a Torino (Italy)-based, international network of academic organizations devoted to the study of emerging spiritual movements. He is the author/editor of some forty books in Italian (some translated into English, French, German, and Spanish), including his encyclopedic The New Religions and The New Magical Movements. He has taught classes at the Pontifical Athenaeum Regina Apostolorum (a Catholic university in Rome) and elsewhere.