The Songwriter's Handbook (Paperback)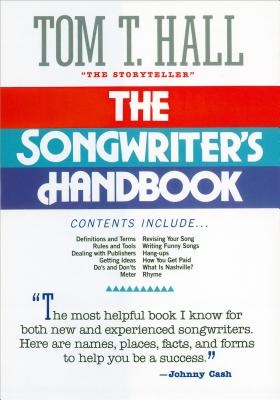 $14.99

Usually Ships in 1-5 Days
Description
---
"I remember when I first got to Nashville," says Tom T. Hall. "I would have like to have had a book like this. It would have saved me a lot of time finding answers to questions."
To help other songwriters, Tom T. Hall has put the answers in this book. "Songwriting is as much a craft as it is a talent," he says. "In order to write songs, you have to be able to recognize what a song is. You have to recognize the importance of something that is entertaining, and you have to say what you want to say very briefly."
In this down-to-earth handbook, the Storyteller teaches the secrets of becoming a successful songwriter. Among the important topics treated are:
What is a song and how will I know when I have one?
How can I find edeas for songs?
How do I combine words with music?
What is the Nashville music industry really like?
Definitions of terms and expressions used in the music business
The Songwriter's Handbook also includes stories of how he wrote some of his own hits, such as "I Flew Over Our House Last Night," "Ravishing Ruby," "I See," and "Old Dogs, Children, and Watermelon Wine." He analyzes the songs, showing how he uses his own rules for successful songwriting.
Included in the book are words and music to many of Tom T. Hall's most successful songs along with personal photos. An earlier version of The Songwriter's Handbook was published as How I Write Songs; Why You Can