The Ultimate Panini Press Cookbook: More Than 200 Perfect-Every-Time Recipes for Making Panini - and Lots of Other Things - on Your Panini Press or Other Countertop Grill (Paperback)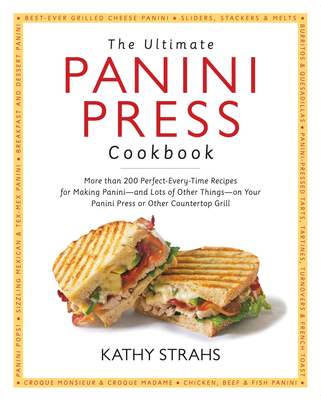 $24.99

Usually Ships in 1-5 Days
Description
---
"Here's another cookbook I'm very, very, very, very excited about. Kathy Strahs has tackled the subject of panini in the most delicious way. I couldn't believe the incredibly delectable panini variations she came up with - and I couldn't believe how ravenous I was when I finished flipping through the pages." - Ree Drummond, award-winning creator of The Pioneer Woman website, and bestselling author of The Pioneer Woman Cooks.
Kathy Strahs's THE ULTIMATE PANINI PRESS COOKBOOK is the first and last word on making the most of a home panini press or counter-top grill. In over 200 recipes and with 100 color photographs, Kathy shows readers how to use this versatile kitchen appliance to make more than just sandwiches and panini (although there is ample recipe inspiration for both), but also dozens of main-course, easy-to-prepare meals that are great for busy home cooks and families. Kathy includes classics like Croque Monsieur and Reuben panini as well as imaginative creations like a Grilled Asparagus and Prosciutto panini and Chipotle Chicken Quesadillas. There are smaller appetizer panini as well, and a host of breakfast and brunch sandwiches. Beyond the panini, Kathy shows off the creativity of the panini press to make such things as chicken satay, jerk pork tenderloin, and even grilled fish tacos. An inventive chapter on desserts includes an amazing way to make homemade ice-cream cones in a panini machine, along with creative after-dinner options such as Grilled Pears with Honey-Whipped Greek Yogurt and Toasted Almonds.
Home cooks looking to get more from their panini press will find inspiration on every page, and with Kathy's clear recipe instructions, and ample tips and advice included throughout the book, THE ULTIMATE PANINI PRESS COOKBOOK is an essential kitchen companion for making the most of the panini press.
About the Author
---
Kathy Strahs is the creator of the popular blog Panini Happy (paninihappy.com), which Babble.com has named as one of the Top 100 Mom Food Blogs for the past four years. A former marketer with a Stanford MBA, Kathy traded in her corporate career to pursue her passion for cooking in 2008. Her innovative recipes and mouthwatering food photography have since been featured in The Wall Street Journal, Pillsbury Magazine, San Diego Family Magazine, and the Associated Press, and on the New York Times, PBS, The Huffington Post, Saveur, and TLC websites. She is also a frequent cooking contest judge, including for the Grilled Cheese Invitational in Los Angeles and the World Food Championships in Las Vegas. She has written The Ultimate Panini Press Cookbook, The 8X8 Cookbook, and The Lemonade Stand Cookbook. She lives in in the San Francisco Bay Area with her husband and their two children.
Praise For…
---
"Who knew you could do so much with a panini press? Kathy offers page after page of inspired ideas, from pepperoni pizza panini to grilled shrimp tostadas to homemade ice cream cones. Utterly delightful!" — Elise Bauer, founder and blogger, SimplyRecipes.com
"In The Ultimate Panini Press Cookbook, Kathy Strahs says it all. Nothing is left out, from how to choose a panini press to exactly how to use it to make great panini and other treats. I like Kathy's friendly style and her clear, useful advice." — Bruce Aidells, author of The Great Meat Cookbook
"You'd be hard pressed (pun intended) to find a panini book as comprehensive and downright fun as Kathy's, let alone one with such spectacular and creative recipes. Look no further: This is unquestionably the last word on panini (and beyond), and it's a great one!" — Laura Werlin, author of Laura Werlin's Cheese Essentials and Grilled Cheese, Please!