Deal: New and Selected Poems (Paperback)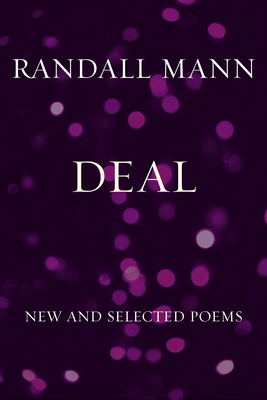 $20.00

Usually Ships in 1-5 Days
Description
---
Political and sequined, Deal: New and Selected Poems contains the most memorable of Mann's previous five collections and presents new poems of disco, lament, and formal invention.
One of our leading American practitioners of poetic form and liberating constraint, Randall Mann has for the past thirty years confronted what it means to identify as multiracial and queer in urban America.
Deal: New and Selected Poems
harnesses five previous volumes and includes economical yet expansive new works rooted in an age of Wi-Fi, apps, and chat notifications. His newest poems, written in concise, contemporary lines, move us word by word, until we arrive at a stark reality.Unafraid of the nexus between politics, syntax, and the contradictions of the colloquial, Mann's poetry refuses "token liberation" and reminds us that "life's a cold exercise in looking back"-back to disco and fetish, to a shared gay history, to his childhood Florida or his beloved San Francisco. Whether writing a sestina in the voice of the mortician of Harvey Milk's murderer, or a deeply moving pantoum elegizing bullied gay adolescents who committed suicide, formal invention for Mann remains intensely personal. This collection--erotic, mournful, and often satirical--characteristically subverts, even as it enlarges, a language that continues to fail us.
Timestamped by surprise and exhaustion, and filled with the everyday indignities of being alive,
Deal: New and Selected Poems
affirms Randall Mann, in the words of Garth Greenwell, as "among our finest, most skillful poets of love and ruin."
About the Author
---
Randall Mann is the author of five books of poetry including Complaint of the Garden, Breakfast with Thom Gunn, Straight Razor, Proprietary, and, most recently, A Better Life. Recipient of the Kenyon Review Prize in Poetry and the J. Howard and Barbara M.J. Wood Prize awarded by POETRY magazine, Mann is also author of The Illusion of Intimacy: On Poetry, a book of literary criticism. Mann's poetry has appeared in the Adroit Journal, Asian American Literary Review, Kenyon Review, Lit Hub, Paris Review, Poem-A-Day, POETRY, San Francisco Chronicle, and elsewhere. Three-time finalists for the Lambda Literary Award, Mann's poetry collections have been shortlisted for the California Book Award and Northern California Book Award, and long-listed for the Golden Poppy Awards' Martin Cruz Diversity and Inclusion Award. Mann lives in San Francisco.