Every Day Is a Good Day: Reflections by Contemporary Indigenous Women (Paperback)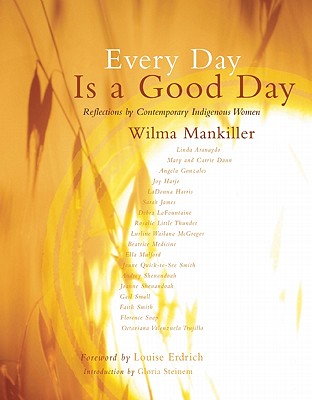 $21.95

Usually Ships in 1-5 Days
Description
---
A rare and often intimate glimpse at the resilience and perserverance of Native women who face each day positively and see the richnes in their lives.
About the Author
---
Wilma Mankiller was an author, activist, and former principal chief of the Cherokee Nation. Her roots were planted deep in the rural community Mankiller Flats in Adair County, Oklahoma, where she spent most of her life. She has been honored with many awards, including the Presidental Medal of Freedom, and has received honorary degrees from such esteemed institutions as Yale University, Dartmouth College, and Smith College. Wilma Mankiller died in 2010 after a long battle with cancer. Contributors include: Linda Aranaydo, Muscogee Creek (physician) Mary and Carrie Dann, Western Shoshone (traditionalists) Angela Gonzales, Hopi (professor) Joy Harjo, Muscogee Creek/Cherokee (poet/musician) LaDonna Harris, Comanche (warrior) Sarah James, Nee'Tsaii Gwich'in (human rights activist) Debra LaFountaine, Ojibway (environmentalist) Rosalie Little Thunder, Lakota (Lakota linguist/artist) Lurline Wailana McGregor, Native Hawaiian (television producer) Beatrice Medicine, Lakota (anthropologist) Ella Mulford, Navajo (biologist) Jaune Quick-to-See Smith, Salish Flathead (artist) Audrey Shenandoah, Onondaga (Clan Mother) Joanne Shenandoah, Oneida (musician) Gail Small (Head Chief Woman), Northern Cheyenne (environmental activist) Faith Smith, Ojibway (educator) Florence Soap, Cherokee (grandmother) Octaviana Valenzuela Trujillo, Pascua Yaqui (educator)
Praise For…
---
The endurance of this book owes as much to these women's resilience as to the staying power of its author. Although she died in April 2010 at the age of 64, Mankiller had survived and indeed surpassed what might be considered more than her share of misfortune. In The Way Home, the chief, a key player in the rebuilding of her nation, wrote, The question I am asked most frequently is why I remain such a positive person, after surviving breast cancer, lymphoma, dialysis, two kidney transplants and systemic myasthenia gravis. The answer is simple: I am Cherokee, and I am a woman. No one knows better than I that every day is indeed a good day." Indian Country Today

The late Mankiller, the first female chief of the Cherokee Nation, had conversations with 19 indigenous female educators, healers, attorneys, artists, musicians, elders, scientists, and activists over a period of several years, and here, they discuss issues facing modern Native American communities from a woman's perspective. Through oral history, discussion, vignettes, and stories, they relate how they led meaningful lives by building on positive attributes of their communities and consider such subjects as ceremony, governance, womanhood, love and acceptance, and home and community. This edition has been published in honor of Mankiller's memory." Book News Inc.