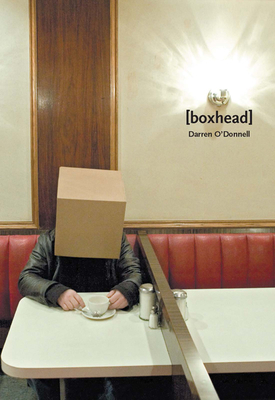 $14.95

Usually Ships in 1-5 Days
Description
---
Dr. Thoughtless Actions, a young geneticist, awakes one morning to find a cardboard box secured to his head. Unable to wrench it off, he attempts suicide, not only failing but also, unbeknowst to himself, cloning himself, creating Dr. Wishful Thinking. The two losers fall in love, fall in science, and fail to make a baby. Their conversation, an intricately woven semantic circus, traverses boxedness, love, and the more ridiculous areas of metaphysical speculation. Through a series of rapid exchanges, verbal games, and musical numbers, they discover that all their thoughts come from God, all their words come from the devil, and their desire for love is a habit acquired from the cinema. Sound familiar? Don't be so hard on yourself.
[boxhead]: a bedtime story for your brain.
About the Author
---
Darren O'Donnell is a novelist (Your Secrets Sleep with Me), essayist, playwright (Inoculations, pppeeeeaaaccceee), director, designer, performer and artistic director of Mammalian Diving Reflex. His most recent book is Social Acupuncture: A Guide to Suicide, Performance and Utopia.
Praise For…
---
"Audacious, thought-provoking and frequently... O'Donnell's script is a tightly wound complex of existential postulations, metaphysical ruminations and poop jokes."---Eye Weekly
"O'Donnell writes like a sugar-addled genius at 300k/h."---The Globe and Mail
Praise for O'Donnell's writing
"[Your Secrets Sleep with Me is] a bible for the dispossessed, a prophecy so full of hope it's crushing."--The Chicago Reader