Persistence: All Ways Butch and Femme (Paperback)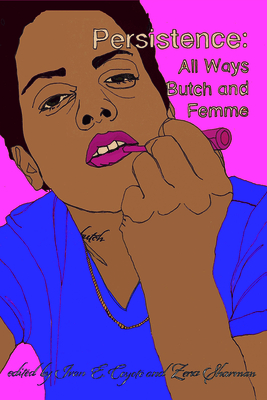 $21.95

Usually Ships in 1-5 Days
Description
---
Lambda Literary Award finalist
American Library Association Stonewall Honor Book
In the summer of 2009, butch writer and storyteller Ivan Coyote and gender researcher and femme dynamo Zena Sharman wrote down a wish-list of their favourite queer authors; they wanted to continue and expand the butch-femme conversation. The result is
Persistence: All Ways Butch and Femme
. The stories in these pages resist simple definitions. The people in these stories defy reductive stereotypes and inflexible categories. The pages in this book describe the lives of an incredible diversity of people whose hearts also pounded for some reason the first time they read or heard the words butch or femme.
Contributors such as Jewelle Gomez (The Gilda Stories), Thea Hillman (Intersex), S. Bear Bergman (Butch is a Noun), Chandra Mayor (All the Pretty Girls), Amber Dawn (Sub Rosa), Anna Camilleri (Brazen Femme), Debra Anderson (Code White), Anne Fleming (Anomaly), Michael V. Smith (Cumberland), and Zoe Whittall (Bottle Rocket Hearts) explore the parameters, history, and power of a multitude of butch and femme realities. It's a raucous, insightful, sexy, and sometimes dangerous look at what the words butch and femme can mean in today's ever-shifting gender landscape, with one eye on the past and the other on what is to come.
Includes a foreword by Joan Nestle, renowned femme author and editor of The Persistent Desire: A Femme-Butch Reader, a landmark anthology originally published in 1992.
Ivan E. Coyote is the author of seven books (including the novel Bow Grip, an American Library Association Stonewall Honor Book) and a long-time muser on the trappings of the two-party gender system.
Zena Sharman is the assistant director of Canada's national Institute of Gender and Health.
About the Author
---
Ivan E. Coyote: Ivan E. Coyote is the author of six books, including the award-winning novel Bow Grip and the story collections The Slow Fix and Missed Her; Ivan has also released two spoken-word CDs and four short films. A renowned storyteller, Ivan frequently performs live across Canada and the US. Zena Sharman: Zena Sharman is a queer femme who works in gender and health research and is in the midst of completing her PhD in Interdisciplinary Studies.
Praise For…
---
"Reading Persistence is like attending a dinner party with people you never got the chance to talk to beforefascinating, brave, insightful peoplesome of whom are very well known and others are simply the people you want to get to know. All of them talk frankly and with genuine courage about what it means to live outside the norms of society." Dorothy Allison

"The rowdy, queer contributors to Persistence address the immediate, often loaded, topic of butch-femme from every angle, confirming once again just how central this label-and-experience is to queer history. Persistence excels in the extreme sport of queer truth-telling, thanks to its ambitious editors Ivan E. Coyote and Zena Sharman. The book feels fresh and radical throughout." Lambda Literary

"A new collection of essays exploring the funny, messy, confusing, contradictory, liberating, confining, wet wild ride of gender from a powerhouse cross-section of the queer world's smartest and sexiest writers, poets, musicians, activists and scholars." Autostraddle

"Touching on a wide range of colors in the prism of butch and femme sexuality and identity, this compilation is indispensable to the lesbian community as an emblem of how far the female gay community has come, and in what direction their mighty assembly is headed." Bay Area Reporter

"A collection of pieces that refutes the idea that butch and femme identities are outdated, and asserts the timelessness and importance of their vibrancy and complexity." Bitch