It's On the Way: Don't Give Up on Your Dreams and Prayers (Hardcover)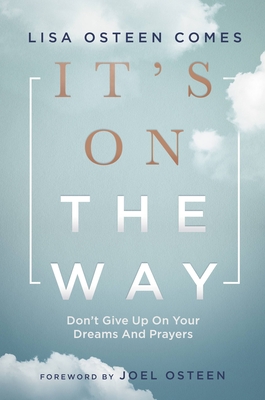 $26.00

Usually Ships in 1-5 Days
Description
---
Associate Pastor at Lakewood Church and sister to Joel Osteen, Lisa Osteen Comes, demonstrates how to keep an attitude of faith in discouraging times and to trust God in every season.
​ 
At times, we all find ourselves in seasons of waiting—for our dreams to be fulfilled, our prayers to be answered, or our circumstances to change. But your dream has an appointed time and God always has victory in store for you. And the seasons of waiting don't need to be periods of discouragement or hopelessness. Instead, they can be rich periods of joy, growth and preparation for the plans and promotion that God has in store for you.
 
In It's On the Way, Lisa Osteen Comes reminds readers that during these inevitable times in our lives, God is faithful and our current season is temporary. Lisa teaches readers how to press through challenges, quit taking shortcuts instead of trusting God to give you His best, allow God to fight your battles, and silence the enemy within, while giving encouragement and practical steps to take when you don't know what to do next.
About the Author
---
Lisa Osteen Comes is a bestselling author, podcast host, and Associate Pastor at America's largest church, Lakewood Church in Houston. Lisa is a notable miracle of our day, having been healed of a crippling disease as a baby. In 1990, while serving at Lakewood Church, Lisa's life was again miraculously spared when she opened a package containing a pipe bomb that exploded in her lap, riddling her office with nails and shrapnel. 
Through all of her challenges and experiences, Lisa has become known as a respected ministry leader and Bible teacher. Lisa's passion for God's Word and love for people radiate in her practical, yet insightful, messages. Lisa is a graduate of Oral Roberts University. She is married to Kevin and they have three grown children. Connect with Lisa on Facebook, Twitter, Instagram or visit her website at lisaosteencomes.com.
Praise For…
---
 "Lisa's new book It's on the Way! is a faith-filled, practical guide to encourage you and strengthen you in God! What a gift in the hour we live in! I love the Osteen family so much. What a legacy and gift to the Church!"
 —Jenn Johnson, author of All Things Lovely

"It's On the Way will bring you hope and comfort in all the best ways. Lisa is a friend in the journey and will brighten your path towards the blessings ahead."  —Roma Downey, Emmy nominated actress, producer and New York Times bestselling Author