Saving Nine: The Fight Against the Left's Audacious Plan to Pack the Supreme Court and Destroy American Liberty (Hardcover)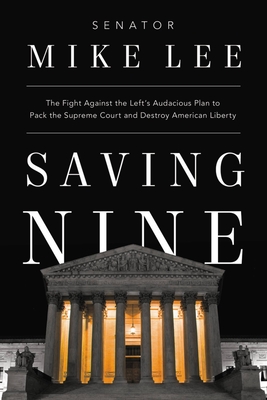 $26.00

Coming Soon - Available for Pre-Order Now
Description
---
The left's partisan push to pack the Supreme Court with liberal justices has fully migrated from the fringes into the mainstream of Democratic politics.

It wasn't long ago that liberal icons, including the late Supreme Court Justice Ruth Bader Ginsburg, were against the idea of overhauling the court for political gain. But now, in the Biden era, more and more powerful Democrats are getting behind the cause, claiming the high court is broken and actively dismantling our democracy. Even Joe Biden -- who once called court-packing a "bonehead idea" -- gave in to the progressive wing of his party, appointing a committee to examine "reforms" to the court after being sworn in as president.
 
What changed? Mike Lee, a respected member of the Senate Judiciary Committee, reveals the answer to that question and warns of the dangerous norm-shattering precedent that would be set by politically motivated attempts to turn the Supreme Court into just another partisan weapon. 
 
About the Author
---
Mike Lee is a Republican senator from Utah and a member of the Senate Judiciary Committee. His father was President Ronald Reagan's solicitor general and brought Lee along to listen to Supreme Court arguments early in life. Before entering politics, Lee served as an assistant U.S. attorney and specialized in Supreme Court litigation in private practice. After graduating from law school, he clerked for several federal judges, including future Supreme Court Justice Judge Samuel Alito.

Lee, a New York Times bestselling author, has previously authored books on American legal and political history.