RV Living: A Comprehensive and Practical Guide to RV Living Full-time (Paperback)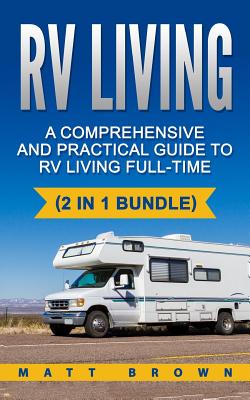 for information about purchasing this book, please contact orders@bookpassage.com
Description
---
2 Magnificent RV living books in 1:
RV Living: A Comprehensive Guide to RV Living Full-time
RV Living: A Practical Guide For RV Living Full-Time
Book 1: A Comprehensive Guide to RV Living Full-time
You only get to live once. One life meant for a multitude of adventures, memories, experiences, and captured moments. One life to see the world for what it is, the beauty that it holds, and the simplicity it brings. Today, many of us live for the next best thing. We live in a fast-paced, stressful, and materialistic society. A society that demands more from us than it offers us in return. In the hustle and bustle of modern-day life, days go by, culminating in a lifetime of occasional adventures but many stressors. RV living provides a break from instant gratification, career pursuit, and fast-paced performance. With the decision to venture into full-time RVing comes a variety of precious moments, memories, experiences, and simplicity. Life becomes true to its original purpose - living in the now. Life becomes simpler. Instead of keeping up with the Joneses, you are allowed to set the pace of your own life and get in touch with what really matters - living, experiencing, and community. Within this book are the basics of living full time in an RV. This book contains everything you need to know, from the benefits of RVing to working while traveling, choosing an RV, maintaining an RV and much more.
Within this book's pages, you'll find the answers to these questions and more. Just some of the questions and topics covered include
RV Living - Is It for You?
Buying an RV
Getting ready for the RV Life
RV Living and Money
Maintaining your RV and the dreaded task of dumping
RV resources
Much more
In that moment when you step into the unknown, you step into a new adventure, new experiences, and new levels of freedom. RVing is all about letting go of the unnecessary in order to embrace the core of who you are and how you define your life. Book 2: A Practical Guide to RV Living Full-time
Finally, you have found an RV book that focuses on the practical stuff In this book, you will get new and practical guidance that you can apply right away. For example, there is a step by step guide for you to follow if you want to buy an RV successfully. When it comes all the small stuff like mail, checklists, etc. don't worry - this book got you covered.
A book that actually has useful information that has been distilled from years of experience in regards to RV living:
The pros and cons of buying a new vs. used RV as well as information about how I would approach it today
How to buy a used RV without getting ripped off
A step by step guide to successfully buying an RV
How to finance your RV lifestyle
The cost of RV living as well as an example of a budget
87 Tips for saving money while RVing
5 ways to deal with laundry
How to get mail while RVing
Meals that I like to eat and that I recommend while RVing as well as a few tips in regards to cooking
Dealing with the medical things while RVing
77 things to bring with you
How to find great public campgrounds
Much more
Get your copy of this valuable bundle today by clicking the Add to Cart button at the top of this page