Maniac: The Bath School Disaster and the Birth of the Modern Mass Killer (Paperback)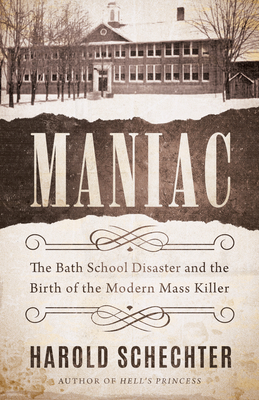 $14.95

Usually Ships in 1-5 Days
Description
---
Harold Schechter, Amazon Charts bestselling author of Hell's Princess, unearths a nearly forgotten true crime of obsession and revenge, and one of the first--and worst--mass murders in American history.
In 1927, while the majority of the township of Bath, Michigan, was celebrating a new primary school--one of the most modern in the Midwest--Andrew P. Kehoe had other plans. The local farmer and school board treasurer was educated, respected, and an accommodating neighbor and friend. But behind his ordinary demeanor was a narcissistic sadist seething with rage, resentment, and paranoia. On May 18 he detonated a set of rigged explosives with the sole purpose of destroying the school and everyone in it. Thirty-eight children and six adults were murdered that morning, culminating in the deadliest school massacre in US history.
Maniac is Harold Schechter's gripping, definitive, exhaustively researched chronicle of a town forced to comprehend unprecedented carnage and the triggering of a "human time bomb" whose act of apocalyptic violence would foreshadow the terrors of the current age.