No Choice: The Destruction of Roe v. Wade and the Fight to Protect a Fundamental American Right (Hardcover)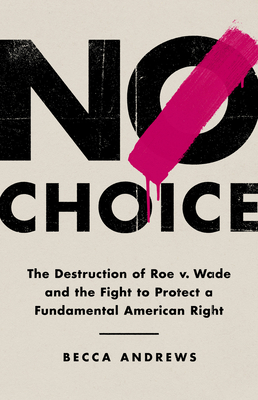 $29.00

Usually Ships in 1-5 Days
Description
---
Named one of Mother Jones' BOOKS WE NEEDED IN 2022

An in-depth look at the legacy of Roe v. Wade, and on-the-ground reporting from the front lines of the battle to protect the right to choose

The pieces started to fall in 2019 when a wave of anti-abortion laws went into effect. Georgia, Ohio, Mississippi, Louisiana and Kentucky banned abortion after six weeks of pregnancy, while Missouri banned the procedure at eight weeks. Alabama banned all abortions. The die was cast. And on June 24, 2022, the Supreme Court overturned Roe v. Wade and, abortion immediately became illegal in 22 states.
 
No Choice begins by shining a light on the eerie ways in which life before Roe will be mirrored in life after. The wealthy and privileged will still have access, low-income people will suffer disproportionately, and pregnancy will be heavily policed. Then, Andrews takes us to the states and communities that have been hardest-hit by the erosion of abortion rights in this country, and tells the stories of those who are most at risk from this devastating reversal of settled law. There is a glimmer of faint hope, though.

As the battle moves to state legislatures around the country, the book profiles the people who are doing groundbreaking, inspiring work to ensure safe, legal access to this fundamental part of health care.
 
 
About the Author
---
Becca Andrews is an investigative journalist at Reckon News who writes about reproductive justice, religion, and inequality. Her work has appeared in Mother Jones, Wired, The New Republic, and Jezebel, among other publications.
Praise For…
---
"A powerful, necessary, absolutely captivating account of abortion in America, situating the fight for this fundamental human right inside a much broader landscape of reproductive injustice. Anchored in richly rendered individual stories—told with grace, nuance, and compassion—No Choice is required reading for the terrifying post-Roe reality in which we find ourselves. This is a book full of the history of resistance and resilience we need to understand and mobilize [for] the fight to come."—Leslie Jamison, author of The Empathy Exams and Make It Scream, Make It Burn

"Highly informative, a compassionate look not just at history and current events around reproductive rights, but also the future. No Choice offers an invaluable contribution to the discourse and a reminder that abortion has a history that spans centuries. It has always happened and will always happen, even if it is not safe and legal. A post-Roe world is not a world without abortion, instead it is a world where more people die from lack of access to reproductive healthcare. This book reminds us that we have seen this in the past and we do not need to return to those horrors. The way forward is policy that centers the living and their needs, not the ideologies of those who cannot conceive of change."—Mikki Kendall, author of Hood Feminism

"Andrews' thoughtful and eye-opening original reporting chronicles one of the most definitive moments of our generation through the eyes of the people who lived and breathed it every day. Her thoughtfully crafted narrative tells the stories of all who've had and provide abortions with unflinching love and clear-eyed honesty. No Choice is the story of how we lost Roe, who was closest to the pain when it happened, and whose lives were forever changed because of it."—Renee Bracey Sherman, founder and executive director of We Testify

"No Choice translates Becca's years of expertise in beat reporting into an incisive, meticulous, and unsugarcoated examination of how our movement—and our country—failed the South long before Roe v. Wade was overturned."—Robin Marty, author of The New Handbook for a Post-Roe America and operations director of the West Alabama Women's Center

"By turns enraging and surprisingly uplifting, an intimate, depressingly timely portrait of the many people who have stood in the gap to protect abortion patients and defend reproductive justice."—Anna Merlan, author of Republic of Lies

"This is required reading for every citizen of this country. Filled with brave reporting, beautiful writing, and an insistence to tell the truth about the war on women, I'll be giving this book as a gift to every woman I know."—Emily Rapp Black, author of Still Point of the Turning World and Sanctuary

"Reporter Andrews debuts with a brisk yet comprehensive history of the fight over abortion care and access in the U.S. since the mid–20th century…Throughout, Andrews skillfully illuminates the implications of changing laws and policies through individual profiles and offers nuanced critiques of the 'political rhetoric' used by both sides of the debate. This is a valuable introduction to the current state of abortion rights in America."—Publishers Weekly

"Necessary in its racial and gender inclusivity, this thoughtful book will appeal to anyone looking to understand the way forward in a post-Roe world…An important book on a timely topic."—Kirkus

"[A] vulnerable, poignant read for folks across all aisles of the political spectrum."—Reckon Media, "17 Best Books of the Year"