American Resistance: The Inside Story of How the Deep State Saved the Nation (Hardcover)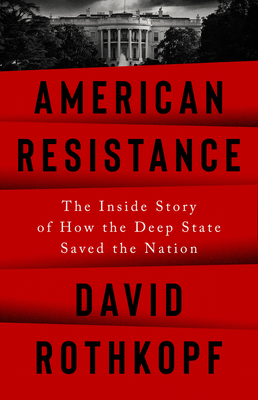 Description
---
It could have been so much worse: a deeply reported, insider story of how a handful of  Washington officials staged a daring resistance to an unprecedented presidency and prevented chaos overwhelming the government and the nation.

  Each federal employee takes an oath to "support and defend the Constitution of the United States against all enemies foreign and domestic," but none had imagined that enemy might be the Commander-in-Chief.  With the presidency of Donald Trump, a  fault line between the president and vital forces within his government was established.  Those who honored their oath of office, their obligation to the Constitution, were wary of the president and they in turn were not trusted and occasionally fired and replaced with loyalists.  

American Resistance is the first book to chronicle the unprecedented role so many in the government were forced to play and the consequences of their actions during the Trump administration. From Lt. Col. Alexander Vindman and his brother Yevgeny, to  Ambassador Marie Yovanovitch, to Bill Taylor, Fiona Hill, and the official who first called himself "Anonymous"—Miles Taylor, among others, Rothkopf examines the resistance movement that slowly built in Washington. Drawing from first hand testimonies, deep background and research, American Resistance shows how when the President threatened to run amok, a few key figures rose in defiance. It reveals the conflict within the Department of Justice over actively seeking instances of election fraud and abuse to help the president illegally retain power, and multiple battles within the White House over the influence of Jared and Ivanka, and in particular the extraordinary efforts to get them security clearances even after they were denied to them.   

David Rothkopf chronicles how each person came to realize that they were working for an administration that threatened to wreak havoc – one Defense Secretary was told by his mother to resign before it was too late – in an intense drama in which a few good men and women stood up to the tyrant in their midst.
About the Author
---
David J. Rothkopf  is a professor of international relations, political scientist and journalist. He is the founder and CEO of The Rothkopf Group, a visiting professor at the Paul H. Nitze School of Advanced International Studies at Johns Hopkins University. He is the author of The Great Questions of Tomorrow, National Insecurity: American Leadership in an Age of Fear​, and most recently, Traitor: A History of American Betrayal from Benedict Arnold to Donald Trump. He is also the podcast host of Deep State Radio. 
Praise For…
---
"This deeply researched and finely written story of the Trump presidency functions as the ultimate political cautionary tale. David Rothkopf has spent much of his life sailing the treacherous waters of Washington, and in American Resistance, he brings a sharply observed set of sensible observations and timely prescriptions to help us navigate the roiling waters of our dangerously turbulent republic. A necessary and riveting book."—Admiral James Stavridis, USN (Ret.), former supreme allied commander, NATO

"Rothkopf has written the Trump administration story that needs to be told: how close we came to losing our democracy and the public servants who saved us. In American Resistance: The Inside Story of How the Deep State Saved the Nation, Rothkopf expertly explains how the much maligned 'Deep State' is actually a cohort of steadfast professionals committed to honoring the oaths they took to uphold the Constitution. This book offers essential insights into a vitally important world too few understand or appreciate."—Lt. Col. Alexander Vindman, USA (Ret.), author of Here, Right Matters

"Finally—the inside story of Trump's chaotic presidency and the extraordinary measures taken to keep the government from falling apart. A chilling and revealing portrait of how close America came to the brink under Trump. Rothkopf pulls back the curtain of the turbulent Trump presidency in a way others haven't. Revelatory."—Miles Taylor, author (as "Anonymous") of A Warning and former chief of staff, US Department of Homeland Security

"The Deep State is real . . . and thank goodness for it. Rothkopf brings his insight and devout patriotism to a fascinating examination of the honorable, diligent, and skilled public servants who are critical to preventing democracy's demise at the hands of MAGA authoritarians. This is a must-read if you want to know how government functions and care about America's future."—Jennifer Rubin, columnist, Washington Post, and author of Resistance

"With an almost-unparalleled knowledge of the inner workings of our government, Rothkopf has written a sobering and at times harrowing account not simply of how bad things were but of how much worse they could have been during the Trump administration. American Resistance is much more, and much more important than, a post-mortem of the Trump years. Exhaustively researched and bolstered by eye-opening interviews with dozens of experts and former government officials, Rothkopf's book offers a clarion call for us to remain vigilant against anti-democratic forces and a long-overdue tribute to the often-maligned civil servants who saved us from the worst administration in modern history. In a very crowded field, what Rothkopf has written is not just compelling, it is essential."—Mary L. Trump, clinical psychologist and author Too Much and Never Enough and The Reckoning

"Rothkopf, host of the invaluable Deep State Radio podcast, pays a long-overdue tribute to the 'Deep State' that tried to keep Trump from doing more damage. In the process he offers a powerful corrective to the negative stereotypes of 'bureaucrats' that are all too deeply rooted in American culture. Even if you remember all the Trump scandals he chronicles (there are so many!), you will feel outrage all over again reading this book—along with gratitude to all of the dedicated public servants who tried to do the right thing and shared their stories with Rothkopf."—Max Boot, columnist, Washington Post, and senior fellow, the Council on Foreign Relations

"One of the biggest debates during the Trump years concerned those who went to work for him in all branches of the government. Were they serving the public by 'saving' the country from the worst of Trump's excesses? Or were they ambitious careerists taking the jobs available while pretending that their service was in the nation's best interests? Rothkopf's fascinating, well written, and carefully researched book is essential reading for those interested in how the 'Deep State' performed in the Trump years—a topic that could well become worryingly relevant again."—Robert Kagan, senior fellow, the Brookings Institution, and author of The Jungle Grows Back

"Rothkopf has been a strong and thoughtful critic of Trumpism from the start because he cares passionately about democratic institutions. American Resistance turns the idea of the 'Deep State' on its head, using it to describe the committed civil servants and policy experts who—imperfectly, but also, in key moments, courageously—worked to block or disrupt some of Donald Trump's most dangerous initiatives. Rothkopf's provocative insight: the Deep State is often the last line of defense against the dark state."—E.J. Dionne Jr., coauthor of 100% Democracy and One Nation After Trump

"It's the best work yet on how federal employees, military as well as civilian, helped preserve democracy from the 'dark state' during the gravest constitutional peril the U.S. has faced since 1860…A searing yet optimistic account of how true constitutional patriots preserved American democracy."—Kirkus, starred review

"[T]his is one of the most revealing and disturbing accounts of Trump's presidency yet published."—Publishers Weekly

"This book is a worthy companion to recent books by Marie Yovanovitch (Lessons from the Edge) and Alexander Vindman (Here, Right Matters). It is an unrelenting indictment of Donald Trump's abuse of the presidency."—Library Journal

"The result is an eye-opening account of the Trump administration and a chilling snapshot of America on the brink."—Celadon Books

"[A] fascinating new book."—Gillian Tett, Financial Times