Are Men Animals?: How Modern Masculinity Sells Men Short (Hardcover)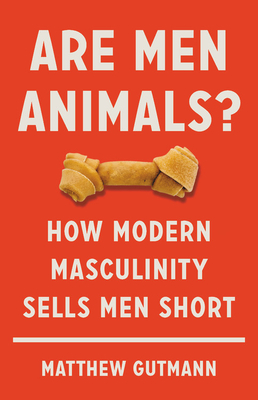 $30.00
Email or call for price
Description
---
"Boys will be boys," the saying goes -- but what does that actually mean? A leading anthropologist investigates
Why do men behave the way they do? Is it their male brains? Surging testosterone? From vulgar locker-room talk to mansplaining to sexual harassment, society is too quick to explain male behavior in terms of biology.
In Are Men Animals?, anthropologist Matthew Gutmann argues that predatory male behavior is in no way inevitable. Men behave the way they do because culture permits it, not because biology demands it. To prove this, he embarks on a global investigation of masculinity. Exploring everything from the gender-bending politics of American college campuses to the marriage markets of Shanghai and the women-only subway cars of Mexico City, Gutmann shows just how complicated masculinity can be. The result isn't just a new way to think about manhood. It's a guide to a better life, for all of us.
About the Author
---
Matthew Gutmann is a professor of anthropology at Brown University who has spent thirty years exploring notions of masculinity across the United States, Latin America, and China. He also has been a visiting professor at El Colegio de México and Nanjing University, and is the author of eight books. He lives in Tiverton, Rhode Island.
Praise For…
---
"Gutmann does more than deconstruct simplistic notions of masculinity-he offers us a better vision of what it means to be masculine. He knows we can do better, and create anew a reality where masculinity and humanity comingle instead of conflict. This book is wholly appropriate for this moment in time."—Agustín Fuentes, Edmund P. Joyce C.S.C. Professor ofAnthropology at University of Notre Dame and author of The CreativeSpark

"Everything men (and women) do in our society is the product of both biology and culture. As ably explained by Matthew Gutmann in this lively and enlightening book, this means that male behavior is hardly immutable. It has more degrees of freedom than often assumed."—Frans de Waal, C. H.Candler Professor of Psychology at Emory University and author of Mama'sLast Hug and What They Tell Us About Ourselves

"Are men animals? Well yes, but so are we all. How much does that explain about male behavior? Not much, according to Gutmann, compared to the dominant role of social and cultural factors in male sexuality and aggression. This is a powerful and important work."
—Sherry Ortner, distinguished professor of anthropology at UCLA

"We need a national conversation about whether our cultural expectations of men have made them into the animals we believe them to be. Can men be less aggressive, less sexual and less dominant? This provocative book argues strongly that the answer is yes. This is a golden moment to begin that conversation."—TM Luhrmann, professor of anthropology, Stanford University