What To Expect When You're Expecting Robots: The Future of Human-Robot Collaboration (Hardcover)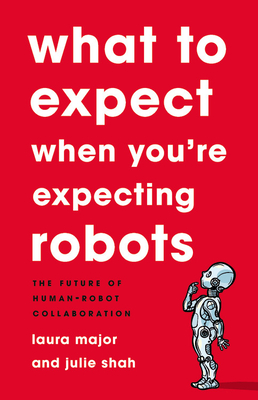 $30.00
Email or call for price
Description
---
The next generation of robots will be truly social, but can we make sure that they play well in the sandbox?
Most robots are just tools. They do limited sets of tasks subject to constant human control. But a new type of robot is coming. These machines will operate on their own in busy, unpredictable public spaces. They'll ferry deliveries, manage emergency rooms, even grocery shop. Such systems could be truly collaborative, accomplishing tasks we don't do well without our having to stop and direct them.
This makes them social entities, so, as robot designers Laura Major and Julie Shah argue, whether they make our lives better or worse is a matter of whether they know how to behave.
What to Expect When You're Expecting Robots offers a vision for how robots can survive in the real world and how they will change our relationship to technology. From teaching them manners, to robot-proofing public spaces, to planning for their mistakes, this book answers every question you didn't know you needed to ask about the robots on the way.
About the Author
---
Laura Major is the CTO of autonomous mobility at Motional. Previously, she led the development of autonomous aerial vehicles at CyPhy Works and a division at Draper Laboratory. Major has been recognized as a national Society of Women Engineers Emerging Leader. She lives in Cambridge, Massachusetts.
Julie Shah is a roboticist at MIT and an associate dean of social implications and responsibilities of computing. She directs the Interactive Robotics Group in the Schwarzman College of Computing at MIT. She was a Radcliffe fellow, has received an National Science Foundation Career Award, and has been named one of MIT Technology Review's "Innovators Under 35." She lives in Cambridge, Massachusetts.
Praise For…
---
"Major and Shah have written a highly entertaining book about the importance of understanding human-robot interaction. Hollywood has long given us a vision of what a future society full of robots may look like. What to Expect When You're Expecting Robots book explains many of the challenges we will have to overcome to deliver on such a reality, from basic interaction to building complete eco-systems."—Henrik Christensen, UC San Diego

"What To Expect When You're Expecting Robots poses thought provoking questions, and offers critical and timely advice about how to build and live with tomorrow's working robots. With their breadth and depth of experience in industry and academia, I can't think of anyone more qualified to start this important discussion than Laura Major and Julie Shah. A must-read for entrepreneurs, government officials, and citizens alike."—Amy Villeneuve, former President and COO, Amazon Robotics

"Shah and Major's engaging, deeply knowledgeable book again demolishes the twentieth-century myth that autonomous robots operate completely on their own. They show that the key to success of robots in real human environments is collaboration with people and infrastructure. Achieving success will take a new generation of engineers, skilled in the social and behavioral sciences as well as data and physical sciences. Major and Shah are the engineering leaders of that generation."—David Mindell, professor, MIT & founder, Humatics Corporation

"Our society is on the brink of a dramatic transformation, one that will radically alter the relationship of humans and machines. Laura Major and Julie Shah see the road ahead with unusual clarity, and they offer a thoughtful, provocative, and wise account of what's to come. Required reading for anyone thinking seriously about the future, and the crucial decisions that will get us there."—Brian Christian, best-selling author of Algorithms to Live By and The Alignment Problem