Rule of the Robots: How Artificial Intelligence Will Transform Everything (Hardcover)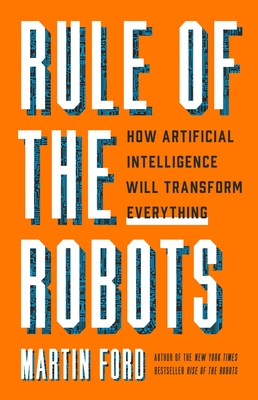 $30.00
Email or call for price
Description
---
The New York Times–bestselling author of Rise of the Robots shows what happens as AI takes over our lives 

If you have a smartphone, you have AI in your pocket. AI is impossible to avoid online. And it has already changed everything from how doctors diagnose disease to how you interact with friends or read the news. But in Rule of the Robots, Martin Ford argues that the true revolution is yet to come. 

In this sequel to his prescient New York Times bestseller Rise of the Robots, Ford presents us with a striking vision of the very near future. He argues that AI is a uniquely powerful technology that is altering every dimension of human life, often for the better. For example, advanced science is being done by machines, solving devilish problems in molecular biology that humans could not, and AI can help us fight climate change or the next pandemic. It also has a capacity for profound harm. Deep fakes—AI-generated audio or video of events that never happened—are poised to cause havoc throughout society. AI empowers authoritarian regimes like China with unprecedented mechanisms for social control. And AI can be deeply biased, learning bigoted attitudes from us and perpetuating them. 

In short, this is not a technology to simply embrace, or let others worry about. The machines are coming, and they won't stop, and each of us needs to know what that means if we are to thrive in the twenty-first century. And Rule of the Robots is the essential guide to all of it: both AI and the future of our economy, our politics, our lives. 
 
About the Author
---
Martin Ford is the founder of a Silicon Valley-based software development firm. He is the author of Rise of the Robots, which won the FT Business Book of the Year Award; The Lights in the Tunnel; and Architects of Intelligence. Ford lives in Sunnyvale, California.
Praise For…
---
"Readers will come away with a good understanding of the technological fundamentals of AI and the debates concerning the likely impact of a maturing set of narrow AI technologies."—Joshua Kim, Inside Higher Ed

"Probably the most compelling single-volume book so far on AI's advance and the opportunities and challenges associated with its multi-faceted impact on the world. Those in AI and those outside it will get a lot out of his clear-eyed and critical perspective. I highly recommend it." —James Manyika, Chairman and Director of the McKinsey Global Institute

"There is no technology more important today than AI. Martin Ford continues his tradition of clear insights and observations about this important topic in a well-researched page-turner.  A delightful book!" —Erik Brynjolfsson, Director of the Stanford Digital Economy Lab and co-author of The Second Machine Age

"The best up-to-date, go-to book on the social and economic implications of artificial intelligence." —Tyler Cowen, Professor of Economics at George Mason University

"An incisive, balanced, and well-informed discussion of where AI stands today, how it may evolve, and the risks it poses to human society."—Stuart Russell, Professor of Computer Science at the University of California, Berkeley and co-author of Artificial Intelligence: A Modern Approach

"Writing about the future of robotics is a dangerous endeavor, since it illuminates every aspect of our lives with a startling, unchartered perspective. Ford navigates this challenge admirably, with an exceptional blend of depth, rigor and clarity." —Judea Pearl, winner of the A.M. Turing Award and co-author of The Book of Why