Mambo Kings Play Songs of Love: A Novel (Paperback)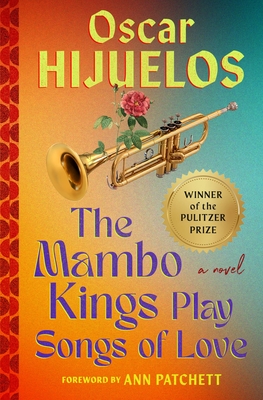 $19.99

Coming Soon - Available for Pre-Order Now
Description
---
The Pulitzer Prize winning modern classic of two Cuban musician brothers during the mambo-filled nights of 50's New York from literary trailblazer, Oscar Hijuelos. 

It's 1949 and two young Cuban musicians make their way from Havana to the grand stage of New York City. It is the era of mambo, and the Castillo brothers, workers by day, become stars of the dance halls by night, where their orchestra plays the lush, sensuous, pulsing music that earns them the title of the Mambo Kings. This is their moment of youth, exuberance, love, and freedom―a golden time that decades later is remembered with nostalgia and deep affection.

Hijuelos's portrait of the Castillo brothers, their families, their fellow musicians and lovers, their triumphs and tragedies, recreates the sights and sounds of an era in music and an unsung moment in American life.

 Exuberantly celebrated from the moment it was published in 1989, The Mambo Kings Play Songs of Love won the Pulitzer Prize for Fiction in 1990 (making Hijuelos the first Hispanic recipient of the award). It remains a perennial bestseller, and the story's themes of cultural fusion and identity are as relevant today as they were over 30 years ago, proving Hijuelos's novel to be a genuine and timeless classic.
About the Author
---
Oscar Hijuelos (1951-2013), a native New Yorker and the son of Cuban immigrants, was a Pulitzer Prize-winning author of nine novels and a memoir and a recipient of the Rome Prize awarded by The American Academy of Arts and Letters. He also received grants from the National Endowment for the Arts and the Guggenheim Foundation. He became the first Latino winner of the Pulitzer Prize for fiction in 1990 for his international bestseller The Mambo Kings Play Songs of Love and his novels have been translated into more than 35 languages.
Praise For…
---
"One lush, tipsy, all-night mambo of a novel about Cuban musicians in strange places like New York City."—People

"By turns street-smart and lyrical, impassioned and reflective, The Mambo Kings Play Songs of Love is a rich and provocative book—a moving portrait of a man, his family, a community and a time."—Michiko Kakutani, The New York Times

"A rich and sorrowful novel...that alternates crisp narrative with opulent musings--the language of everyday and the language of longing. You finish feeling...ready to throw up your arms and cry, Que bueno es! Mr. Hijuelos is writing music of the heart."—New York Times Book Review