Dr. Patrick Walsh's Guide to Surviving Prostate Cancer (Paperback)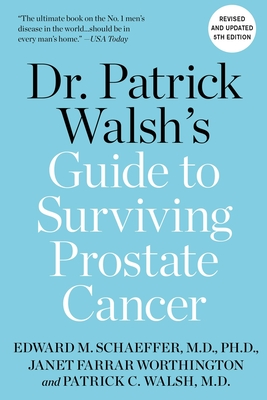 $21.99

Usually Ships in 1-5 Days
Description
---
This revised guide covers every aspect of prostate cancer: everything from potential causes, diets, and diagnostic tests to curative treatment and innovative means of controlling advanced stages of cancer.
As of 2022, an estimated 268,490 American men will be diagnosed with prostate cancer. A high percentage of those will relapse. But the good news is that more men are being cured of this disease than ever before.
In a new and completely revised 5th edition, this lifesaving guide offers a message of hope to every man facing this illness, and the people who love them. Prostate cancer is a different disease in every man—which means that the right treatment varies for each person. Public awareness for this disease has transformed treatment and opened up new avenues of research; rapid advances in knowledge are being translated in new recommendations for management. In this book, Dr. Walsh et. al. will address such issues as:
The genes involved in prostate cancer, genetic tests, and who should get them. 
The powerful effect of lifestyle changes to reduce pro-inflammatory and pro-insulin resistance environments, such as alcohol intake, physical activity, and BMI. 
What high-risk men (particularly African American men) need to know, and when to start screening. 
Information and support for the LGBT community, transgender individuals, and people with prostates. 
New information on testing and imaging. 
Your post-treatment life; how to stay healthy after treatment and manage the side effects of medication, and also how to support caregivers. 
Advice and support for coping with your diagnosis and learning how to live life beyond prostate cancer
About the Author
---
Patrick C. Walsh, MD, the world's foremost authority on prostate cancer, is the Distinguished Service Professor of Urology at the Brady Urological Institute of the The Johns Hopkins Medical Institutions in Baltimore, Maryland. Dr. Walsh was honored as the 2007 National Physician of the Year for Clinical Excellence by America's Top Doctors.

Edward M. Schaeffer, MD, is Chair of the Department of Urology at Feinberg School of Medicine and Program Director of the Genitourinary Oncology Program at the Robert H. Lurie Comprehensive Cancer Center of Northwestern University. He is a clinically active urologist with a specialized practice in prostate cancer. His globally recognized prostate cancer research focuses on at-risk populations, diagnosis, treatment outcomes, and the molecular biology of lethal prostate cancer.

Janet Farrar Worthington has written and edited numerous health publications and books. She is the editor of Discovery, a research magazine for the Brady Urological Institute at Johns Hopkins, and also the writer/editor of LEAP, a magazine for Johns Hopkins Rheumatology. The former editor of Hopkins Medical News, the alumni magazine for the Johns Hopkins School of Medicine, she is the senior writer for the Prostate Cancer Foundation. She often writes about prostate cancer for her men's health blog, vitaljake.com.  She has written three non-medical books, Bumble Creek Farm, Where's the Wine?, and Nelson Llama (with Laura Hatcher), a children's book.  She also has a nonmedical blog, janetfarrarworthington.com.  For six years, she was a national commentator for Marketplace, on public radio.  She lives in Prescott, Arizona.
Praise For…
---
"The ultimate book on the No. 1 men's disease in the world...should be in every man's home." --USA Today

"Dr. Walsh is widely regarded as the nation's finest prostate surgeon...Very current...thoroughgoing primer on the disease, full of accessible but detailed explanations." --Washington Post

"Comforting, encouraging...a must-read for women, men, and families...tells you everything you need to know." --Elizabeth Dole