The Dissident: Alexey Navalny: Profile of a Political Prisoner (Hardcover)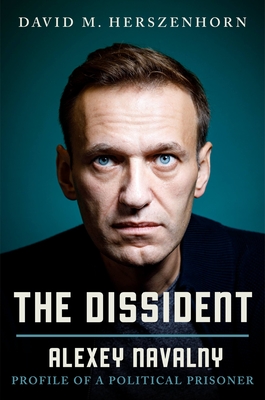 $30.00

Coming Soon - Available for Pre-Order Now
Description
---
A news-driven biography of Vladimir Putin's nemesis, Alexey Navalny—lawyer, blogger, anti-corruption crusader, protest organizer, political opposition leader, candidate, campaign strategist, provocateur, poisoning victim, dissident, and now, prisoner of conscience.
THE DISSIDENT is the story of how one man offended by the dishonesty and criminality of the Russian political system has mounted a fearless and relentless opposition movement and become Putin's personal nemesis; so despised that the Russian leader makes a point of never uttering Navalny's name.
 
There's an old saying that Russia without corruption isn't Russia. Alexey Navalny refused to accept this proposition. His stubborn insistence that Russians can defy the stereotype and create an entirely different country has made him such a threat to President Vladimir Putin that the Kremlin wanted him exiled or dead.
 
Here, foreign corresponden David M. Herszenhorn weaves together the threads of Navalny's remarkable life and work:
The assassination attempt with a military-grade nerve agent by an FSB hit squad in Siberia, his recovery, and vigilante-style investigation with Bellingcat to identify and confront his own would-be killers;   
Navalny's personal biography as part of the generation that straddled the end of the Soviet Union and birth of the Russian Federation and his fellowship at Yale University that spurred conspiracy theories about his ties to the U.S.;  
His anti-corruption investigations that exposed billions in graft at Russia's biggest state-owned companies, and vast embezzlement by top Russian officials, including his blockbuster revelations about Putin's Black Sea Palace;
His political activism, including the organization of huge street protests in Moscow in 2011 and 2012, his campaign for mayor in 2013 and hos controversial views on nationalism, gun rights, the annnexation of Crimea and more.
 
Riveting and complex, THE DISSIDENT introduces readers to Russia's greatest and most effective agitator, a man so willing to sacrifice his freedom—and even his own life—to build the country he wants to live in and hopes to pass on to his children.
About the Author
---
David M. Herszenhorn is Russia, Ukraine, and East Europe editor of The Washington Post and former chief Brussels correspondent of POLITICO Europe. Before POLITICO, David worked at The New York Times for more than 20 years as a reporter, Washington correspondent and foreign correspondent based in Moscow.