My Nana's Garden (Hardcover)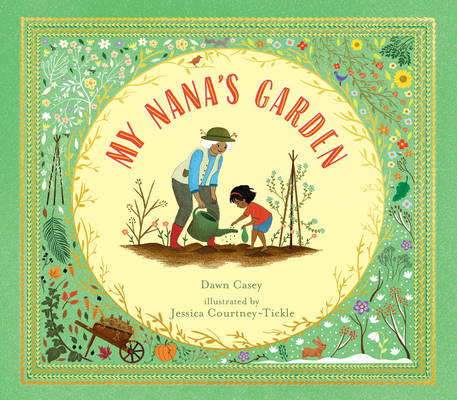 Description
---
A lyrical, stunningly illustrated book about love, loss, and the healing power of nature

My nana's garden is tangled with weeds. "Wildflowers," says Nana, "food for the bees."

A little girl visits her grandmother in summer and winter, and together they explore the wonders of her garden. Until, one day, Nana isn't there anymore. But as winter gives way to spring, the girl learns that life goes on, and so does the memory of those we love.
About the Author
---
Dawn Casey's work is inspired by her deep love of nature, her respect for the tales of old, and her delight in the wonder of the world. Her collection The Barefoot Book of Earth Tales won a Gold Nautilus Book Award, presented to books that "support conscious living and green values, high-level wellness, positive social change and social justice, and spiritual growth." She is also the author of A Lullaby for Little One. Dawn Casey lives with her family in England.

Jessica Courtney-Tickle's favorite thing to draw or paint is nature. She is influenced by vintage picture books, travel posters, and folk art as well as numerous painters and printmakers. She uses a mixture of hand-painted backgrounds and digital effects to give her work a heavily textured and decorative appeal. She is the author-illustrator of Little Christmas Tree. Jessica Courtney-Tickle lives in England surrounded by trees and lots of local wildlife.
Praise For…
---
Over the years, a little girl pays many visits to her nana's house and garden...As the seasons cycle, the girl and her mother continue to visit and, increasingly, to help her nana in the "lovely and wild" garden....There is so much beauty in this heartwarming story. Written in rhyming couplets, the simple text flows smoothly. The stunning, delicate illustrations fill in the gaps left by the text, depicting the charm of the garden, Nana's aging, the family's emotions, and the girl's growth. The artwork provides a wonderful display of three—and then four—generations and the love they share. The girl and mother have brown skin and long, black hair while Nana has paler brown skin and white hair...A beautiful, touching story of a family's love and loss, the garden both metaphor and place of healing.
—Kirkus Reviews (starred review)

While the text discusses the weather and seasons, the images convey a larger meaning. When winter comes, the garden is snow-covered, bare, and quiet. Its emptiness demonstrates that Nana is now gone. . . Life, loss, and rebirth are captured in this poignant, poetic, and ultimately upbeat tribute to the importance of family and connection.
—Booklist