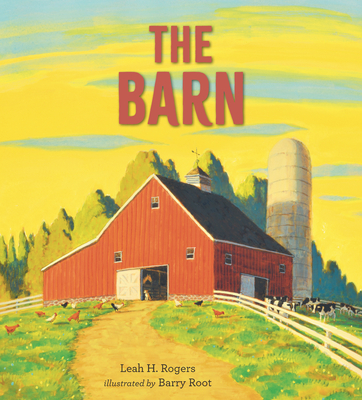 Description
---
A sweet, spare debut offers a barn's-eye view of life on a farm, illustrated with grace and gentleness by picture-book veteran Barry Root.

I am a barn. All are safe within my walls.

One hundred years ago, many hands raised a red-cedar barn. Now the barn stands tall, smelling of freshly cut hay and dusty horses. As the animals wake and wander through its weathered doors, the barn watches the day unfold. Chickens peck, cows shoo flies with swishing tails, swallows fly in and out, and a cat crouches in the grass to hunt for dinner. When peepers start their evening song and the animals settle in their bedding again—the horses in their stalls, the cows in their pen, the swallows in their nests—the barn settles, too, until morning, when it gets to live the day all over again. Written by a debut author and narrated by the barnyard's serene sentinel, this lyrical and beautifully illustrated introduction to farm life is also a gentle way to wind down to bedtime.
About the Author
---
Leah H. Rogers has an MFA in creative writing from Lesley University. This is her first book for children. She lives in New York.

Barry Root's many renowned books for children include Bag in the Wind and The Bell in the Bridge, both by Ted Kooser, and Passing the Music Down by Sarah Sullivan. He lives in Pennsylvania.
Praise For…
---
Though not written in verse, the narrative is gently poetic; the simple, straightforward prose brims with pleasant consonants and assonants, and, indeed, the rolling, rhythmic text appeals to all the senses. Slower-paced read-alouds will not only reward listeners, but also allow kids to savor the delightful, muted painted images of greenery, farmland, and the barn's residents. . . Sweet, reassuring, comforting.
—Kirkus Reviews (starred review)

Atmospheric spreads and quiet verses combine to form a sedate bedtime lullaby that's attentive to nature's daily cycles.
—Publishers Weekly (starred review)

Descriptive and refreshing language enhances young readers' vocabulary, especially when absorbed alongside the illustrations. . . . Soft lines and careful lighting give the illustrations a sense of calm while guiding readers through a typical summer day.
—School Library Journal

With rhythmic prose, The Barn conveys the passing of time and introduces young readers to the valuable idea of rootedness.
—WORLD Magazine