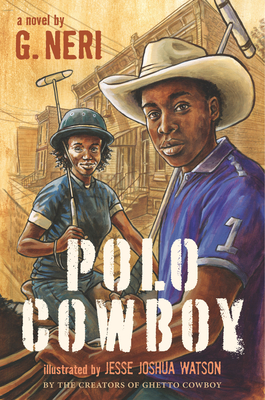 Description
---
How does a Black kid from North Philly wind up playing polo? The much-anticipated sequel to Ghetto Cowboy, now a major motion picture starring Idris Elba and Stranger Things's Caleb McLaughlin.

When Cole moves in with his dad, Harp, he thinks life will be sweet—just him and his horse, Boo, hanging out with Philadelphia's urban cowboys. But when Harp says he has to get a job, Cole winds up as a stable hand for the polo team at George Washington Military Academy, where the players are rich, white, and stuck-up—all except Ruthie, the team's first and only girl, who's determined to show the others she can beat them at their own game. As Cole and Ruthie become friends—and maybe more—he starts imagining his future, maybe even at the academy. But between long workdays, arrogant polo players, and a cousin trying to pull Cole into his dangerous business, that future seems remote. Will Cole find the courage to stand and be seen in a world determined to keep him out? With striking illustrations by Jesse Joshua Watson, celebrated author G. Neri's novel weaves themes of tenacity and community into a rousing sports story inspired by Philadelphia's real-life urban cowboys and polo players.
About the Author
---
G. Neri is the author of the Coretta Scott King Author Award Honor Book Yummy: The Last Days of a Southside Shorty along with many other books for young readers, including Ghetto Cowboy; Hello, I'm Johnny Cash; and When Paul Met Artie: The Story of Simon and Garfunkel. His books have been translated into multiple languages in more than twenty-five countries. He lives with his family on the Gulf Coast of Florida.

Jesse Joshua Watson is the illustrator of many books for young readers, including the New York Times best-selling Hank Zipzer series, written by Henry Winkler and Lin Oliver, and Ghetto Cowboy and Chess Rumble, both written by G. Neri. He lives with his wife and sons in Washington.
Praise For…
---
Polo and cowboys come together, with a main character who will leap off the page and into readers' hearts, in this moving story of growing up and grit.
—School Library Journal (starred review)

Neri gives readers a look into another type of equestrian life while maintaining the tone and style readers appreciated in Cole's cowboy journey. . . A skillful sequel that adds new layers to a coming-of-age story.
—Kirkus Reviews

With black-and-white sketches and plenty of polo play-by-play, this is both thoughtful and entertaining.
—Booklist

This sequel to Ghetto Cowboy (Candlewick 2011), itself the inspiration for Netflix's Concrete Cowboy series, is sure to be a hit with middle school students and teachers, especially those looking for a heartwarming story about grit and staying true to yourself.
—School Library Connection

The novel is enhanced by vibrant black-and-white illustrations by Jesse Joshua Watson. Neri skillfully weaves together the evolution of Cole and Ruthie's friendship into a tentative romance, Cole's changing relationship with Harper and several exciting throwdowns on and off the polo field for a satisfying story for young readers. . . . seems ready-made for a movie sequel, too.
—The Miami Herald