Baby Moses in a Basket (Hardcover)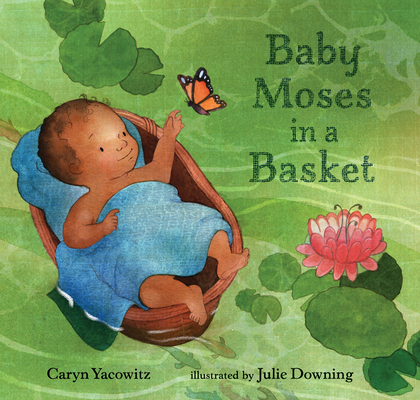 Description
---
The story of a tiny baby's epic journey—and the surprising help he gets along the way—in a touching, transcendent picture book.

In the time of the pharaohs, a loving mother saves her son by tucking him into a basket and setting him afloat on the wide, wild Nile River. Over one long night, the creatures of the Nile—Curious Ibis, Mama Hippo, Mighty Crocodile—watch over Moses, nudge him on his way, and keep him safe through catching reeds and a raging storm. As morning breaks, the river delivers the baby safe and sound into an unexpected safe haven—the welcoming arms of the pharaoh's daughter. With a poetic text and sumptuous watercolors, Caryn Yacowitz and Julie Downing introduce the youngest readers to Moses and the Exodus story and weave a warm, reassuring tale of love and comfort. Ideal for Passover and year-round, this universal story invites little ones of any faith to experience a thrilling journey in perfect, protected safety.
About the Author
---
Caryn Yacowitz is a playwright, speaker, and the author of several picture books. She lives in California.

Julie Downing is the illustrator of more than forty-five picture books and a professor of watercolor and children's book illustration. She lives in California.
Praise For…
---
The story of the Exodus from Egypt begins for the very young. . .The full-bleed watercolor illustrations depict a lush and detailed setting of flowers, butterflies, and fish. . .Sweet and pretty.
—Kirkus Reviews

. . .As Moses floats toward yet-unknown safety, Yacowitz's gently rolling rhymes and Downing's inventively framed watercolors—rendered in washes of emerald, citrine, and lapis—he enters a world far more benevolent than what he faced on shore. . .By the time Pharaoh's daughter lifts Moses from the water in this quietly beautiful story, it seems that all of nature has determined to protect the infant.
—Publishers Weekly

The simple yet beautiful lyrical poetry and Julie Downing's soothing wildlife illustrations give both adults and children a sense of God's peace. It's a creative retelling that parents and children can read together again and again.
—WORLD Magazine