Stuntboy, In-Between Time (Hardcover)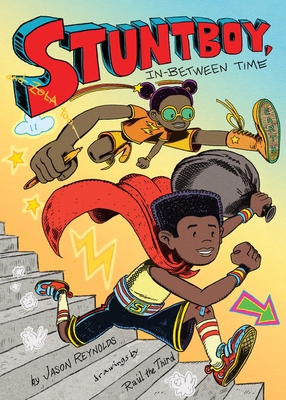 Other Books in Series
This is book number 2 in the Stuntboy series.
Description
---
From Newbery Medal honoree and #1 New York Times bestselling author Jason Reynolds comes the sequel to the hilarious, hopeful, and action-packed middle grade novel Stuntboy, in the Meantime about the greatest young superhero you've never heard of, jam-packed with illustrations by Raúl the Third!

Portico Reeves is the greatest superhero a lot of people have never heard of. He likes it that way—then no one can get in the way of him from keeping other other people safe. Super safe. He's Stuntboy. He's got the moves. And the saves. Except. There's been one major fail.

He couldn't save his parents from becoming Xs. Which is a word that sounds like coughing up a hairball. But don't talk to him about the divorce, because of the hairball thing, and also, it gives Portico the frets.

What's also giving him frets is his parents living on two separate floors in their apartment building. He's never fully with one parent or the other. He's in-between, all the time. The in-between time. And the elevator is busted, so to get between floors means getting past the bullies who hang in the stairwells.

So when Portico and new friend, Herbert, and best best friend, Zola, discover an empty apartment, unlocked, they are psyched. It's a perfect hideout, and hangout, and it's not half anyone's…it's all theirs. So they decide to make it their own…let's say with stunts of the drawing kind. Problem is, that gives some Grown Up People the frets, which leads to double frets for Portico. And he's not sure his arsenal of stunts can combat that.
About the Author
---
Jason Reynolds is a #1 New York Times bestselling author, a Newbery Award Honoree, a Printz Award Honoree, a two-time National Book Award finalist, a Kirkus Award winner, a UK Carnegie Medal winner, a two-time Walter Dean Myers Award winner, an NAACP Image Award Winner, an Odyssey Award Winner and two-time honoree, the recipient of multiple Coretta Scott King honors, and the Margaret A. Edwards Award. He was also the 2020–2022 National Ambassador for Young People's Literature. His many books include All American Boys (cowritten with Brendan Kiely); When I Was the Greatest; The Boy in the Black Suit; Stamped; As Brave as You; For Every One; the Track series (Ghost, Patina, Sunny, and Lu); Look Both Ways; Stuntboy, in the Meantime; Ain't Burned All the Bright (recipient of the Caldecott Honor) and My Name Is Jason. Mine Too. (both cowritten with Jason Griffin); and Long Way Down, which received a Newbery Honor, a Printz Honor, and a Coretta Scott King Honor. He lives in Washington, DC. You can find his ramblings at JasonWritesBooks.com.

Raúl the Third is the illustrator of the New York Times bestselling Stuntboy, in the Meantime, by Jason Reynolds. He's also a three-time Pura Belpré Award winner for ¡Vamos! Let's Go to The Market! and his Lowrider picture book series written by Cathy Camper, the first of which, Lowriders in Space, also won the Texas Bluebonnet. Raúl is also the author and illustrator of ¡Vamos! Let's Go Eat and ¡Vamos! Let's Cross the Bridge. His work centers around the contemporary Mexican American experience and his memories of growing up in El Paso, Texas, and Ciudad Juárez, Mexico. He's also contributed to the SpongeBob Comics series. He lives outside of Boston.
Praise For…
---
Once again, Reynolds adroitly weaves emotional business into the teeming tapestry of apartment houselife by surrounding his caped protagonist, still struggling with his parents' recent separation, with a colorful cast depicted by Raúl the Third in typically snappy, dynamic flurries of motion on nearly every page.
— Booklist STARRED Review

The episodic storytelling with cleverly illustrated asides documents the building's residents and even takes metanarrative shots at the creators in a charmingly relatable account of an adventurous kid pursuing hijinks with best friend Zola and new friend/former bully Herbert. Fun and emotionally perceptive.


— Kirkus Reviews

Jason Reynolds (Track series) and Raúl the Third (Strollercoaster) join forces again in Stuntboy, In-Between Time, the hilarious and moving follow-up to Stuntboy, in the Meantime, about the new challenges faced by "the greatest superhero you've never ever heard of." Reynolds's text is accessible, providing a quick, entertaining read that directly covers topics of divorce, friendship, and anxiety. Raúl the Third's digital illustrations enhance the superhero tone with loose, sketchy lines that show movement; intentionally chosen pops of color in the grayscale art focus the eye on important details. Stuntboy, In-Between Time can be read as a stand-alone and is a perfect book for middle-grade readers who love superheroes.
— Shelf Awareness for Readers