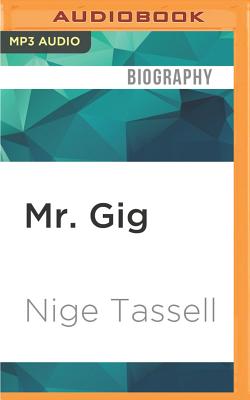 $9.99
Email or call for price
Description
---
Roadie. DJ. Promoter. Reviewer. Punter. Nige Tassell's adult life has been defined by live music. It's the fabric of his being, his bloodline, his DNA. He is Mr Gig - or at least he was. A few years ago, Mr Gig hung up his backstage pass and headed off to raise children in rural isolation. Now, with house renovated and kids domesticated, he turns back to face the music and barely recognises his former love: the astronomical ticket prices; the sea of mobile phones obscuring the view; the once-iconic venues selling naming rights to drinks companies.
On a mission to rekindle his passion for live music, Nige embarks on a round-Britain trip from super-sized arena shows to microscopic folk festivals, from blacker-than-black death metal gatherings to brightly coloured '80s pop revivals in an attempt to get his groove back. Along the way, he finds himself the recipient of a Michael Eavis practical joke, scoffs his way through Elbow's backstage banquet, endures a near-death experience en route to a festival on a remote Hebridean island, and even goes gladioli shopping with a Smiths tribute band. Will Nige fall back in love with live music? Can he make peace with middle age? And will he ever again be able to rightfully call himself Mr Gig?
Nige Tassell is a freelance music journalist whose work has appeared in The Word, Q, The Guardian, The Sunday Times, New Statesman and Paste. He has also presented music documentaries for BBC Radio 4. His journalistic highlights include scoffing cake in the Test Match Special commentary box, interviewing Boy George while pushing his son around the aisles of Morrisons and being (surely ) the only person ever to travel to The Ivy by National Express coach.