How to Solve a Crime: The A-Z of Forensic Science (Paperback)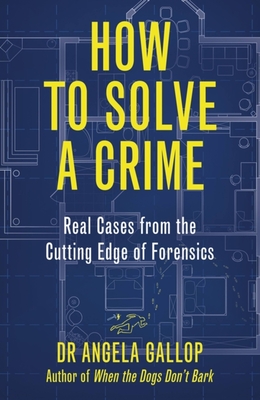 $19.99

Usually Ships in 1-5 Days
Description
---
'Endlessly fascinating...meticulously written and thoroughly absorbing book' Financial Times

Out now: *Revised and Updated* The gripping new book by the UK's most eminent forensic scientists, Angela Gallop
__________

CRIME [Noun]: An action or omission which constitutes an offence and is punishable by law

Forensic science is one of the most important aspects of any criminal investigation.The impartial and objective evidence it provides can help convict the guilty. It enables courts to have the confidence in their decisions and to ensure that justice is done.

Professor Angela Gallop has been at the forefront of forensics for more than 45 years. During her remarkable career, she has established and run forensic science laboratories and has worked on thousands of cases in the UK and across the world. In How to Solve a Crime, she describes some of her own and her colleagues most intriguing cases and the wide range of skills and techniques used to solve them.

Whether it's looking at blood patterns and footwear marks at crime scenes to work out what happened, extracting data from suspects mobile phones to discover where they were at critical times, or analysing fragments of textiles fibers, glass or paint to determine where they might have come from, Gallop shows that every contact really does leave a trace and every trace can help to solve a crime.

With unparalleled access and insight across a wide range of specialisms, How to Solve a Crime is a fascinating definitive and authoritative account of real-life forensic science.

_________

Praise for Angela Gallop

'An hour with Dr Angela Gallop is like a tutorial from a real-life Sherlock Holmes.' Daily Mail

'Thank God we have scientists like here.' The Times

Praise for WHEN THE DOGS DON'T BARK

'Fascinating'Guardian

'Offers a chilling glimpse into her life's work. . . fascinating stuff'Sunday Times

'Compelling'Daily Mirror

'A casebook that reads like The Encyclopaedia of Murder' Daily Express

'One of the professions leading lights' Woman & Home
About the Author
---
Angela Gallop is one of the world's most eminent forensic scientists. During a career spanning more than 45 years, she has helped to drive change and transformation within the service, both in the UK and abroad. A specialist in cold-case investigations, Angela has led forensic teams to find vital evidence in many of the UK's most challenging cases, including the deaths of Stephen Lawrence, Damilola Taylor, Rachel Nickell, Roberto Calvi and many others.

In 2015, Angela was awarded a CBE for her services to forensic science.

Her first book, When the Dogs Don't Bark: A Forensic Scientist's Search for the Truth was published in 2019.