Happy Sexy Millionaire: Unexpected Truths about Fulfillment, Love, and Success (Hardcover)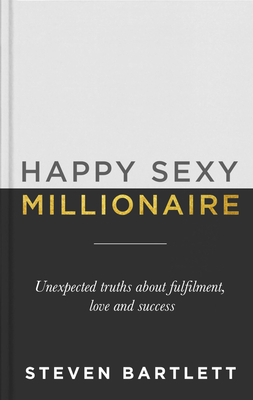 Description
---
"This book will change your life if you let it." -Tom Bilyeu, Co-Founder/CEO of Impact Theory & Co-Founder of Quest Nutrition

We are losing ourselves. We're chasing the wrong things, asking the wrong questions, and polluting our minds. It's time to stop, it's time to resist and it's time to rethink the fundamental social blueprint that our lives are built upon.

As an 18-year-old, black, broke, lonely, insecure, university drop-out, from a bankrupt family, I wrote in my diary that I wanted to be a 'Happy Sexy Millionaire' by the age of 25. By 25 I was a multi-millionaire having created a business worth over $300m dollars. Ironically, in achieving everything I set out to, I learnt that I was wrong about almost everything... The world had lied to me. It lied to me about how you attain fulfillment, love and success, why those things matter, and what those words actually mean.

In this book, I'll dismantle the most popular, unaddressed lies about happiness that we've been led to believe. I'll expose the source of these lies, examine the incentives that fuel them and replace them with a practical set of scientifically proven and unconventional ideas that will help you to live a truly fulfilled life, a life full of the love you seek and the success you deserve.
About the Author
---
Steven Bartlett is the 27-year-old CEO of Social Chain. From a bedroom in Manchester, this university dropout built the group's two flagship companies - Social Chain and Media Chain - when he was just 22 years old before taking his company public at 27, with a market valuation of £200m.

Steven leads a global team of 700+ innovators who have spent the last 5 years keeping brands at the forefront of what is possible. Social Chain's impressive client list includes the likes of Apple, Amazon, Coca-Cola, Fifa and Samsung, with their presence now felt in Manchester, London, Berlin, Munich, New York and Bangkok. Since its onset, the digital publishing house 'Media Chain' now owns some of the largest media assets online - reaching over 1.8 billion people a month through a series of online brands.

An award-winning entrepreneur with accolades such as Great British Entrepreneur of the Year and Most Influential Agency Figure 2018, Steven also acts as a speaker, investor and content creator, hosting top charting podcast, 'The Diary of a CEO'. Previous speaking opportunities have seen Steven speaking at the United Nations, SXSW 2019, VTEX Day alongside Barack Obama, Ted Talk plus many more.


Praise For…
---
"This book will change your life if you let it."—Tom Bilyeu, Impact Theory Podcast

"When I read your posts, I raise an eyebrow...and I'm like yeah! That is powerful, that is important, wise advice on our behavior...we are accountable for our behaviors and I really get that from you."—Drew Barrymore