Unearthed: On race and roots, and how the soil taught me I belong (Paperback)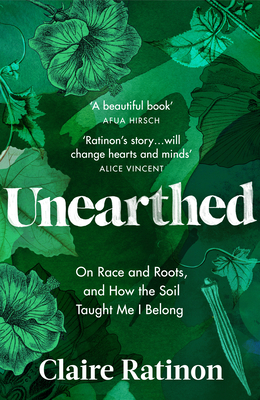 $19.99

Coming Soon - Available for Pre-Order Now
Description
---
"When we speak of our origins, that which made us, we speak of our roots. We acknowledge how our identities are intertwined with land, whether it's the one we are standing on or another we lay claim to."

Unearthed is the story of how Claire Ratinon found belonging through falling in love with growing plants. For years her troubled relationship with the land of her birth left her feeling unwanted, but reconnecting with nature allowed her finally to put down roots.

Like many diasporic people of color, Claire grew up feeling cut off from the natural world. She lived in cities, reluctant to be outdoors and stuck with the belief that success and status could fill the space where belonging was absent.

Through learning the practice of growing food, she unpicked her beliefs about who she ought to be. Over her first year living in the English countryside and with the first vegetable patch of her own, she finds a pathway back to nature's embrace. And through growing the food of Mauritius, recording her parents' stories and exploring the history of the island, she also strengthens her connection to her homeland.

A beautiful work of nature-writing, memoir and storytelling, Unearthed urges us to look to the world outside for the belonging and home we seek. It is a heartfelt call to reconsider our history, the way we think about nature and the complex relationships we all have with the land.
About the Author
---
Claire Ratinon is an organic food grower and writer based in East Sussex. After a chance encounter with a rooftop farm while living in New York City, Claire discovered her love for growing vegetables. She returned to London, where she left her career in TV documentary production, and has been pursuing her passion for plants ever since. Claire has grown organic vegetables for the Ottolenghi restaurant, Rovi; delivered workshops to audiences including East London primary schools, community centers and corporate clients; given talks for organizations including The Garden Museum, the Royal College of Art and West Dean College; as well as having appeared on Radio 4's Gardeners' Question Time. Her writing has been featured in Waitrose Food Magazine, Bloom and The Modern House Journal and her first book, How to Grow Your Dinner Without Leaving The House, was published in 2020.
Praise For…
---
A beautiful book about nature, and how reengaging with the foundational experience of our species of growing and cultivating crops can be a source of healing and spiritual truth... I recommend it -- Afua Hirsch, author, Brit(ish): On Race, Identity and Belonging

It is rare for a book to come along that tells a story that has never been heard before. Unearthed is just that and more. Deeply felt, deeply told, deeply generous, Claire Ratinon's story of trying to find a place of belonging in a post-colonial landscape is one that will change hearts and minds. How vitally we have needed this narrative, how beautifully it has been told. -- Alice Vincent, author, How to Grow Stuff
"Ratinon makes the process of starting a garden approachable . . . A recommended resource for urban gardeners and anyone with limited space. Booklist on How to Grow Your Dinner

"Ratinon makes gardening look easy and fun. Urban dwellers eager to try their hand at self-sufficiency will find an encouraging start here." Publishers Weekly on How to Grow Your Dinner