The Rupi Kaur Boxed Set (Paperback)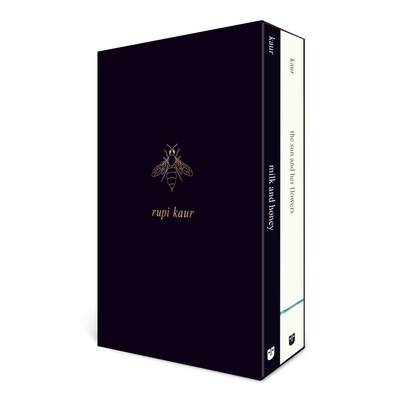 Description
---
Watch rupi kaur live now on Prime Video.

"Rupi Kaur is the Writer of the Decade." – The New Republic

Available for the first time, #1 New York Times bestselling author, rupi kaur, presents a gorgeous boxed set of her books milk and honey and the sun and her flowers.

Global sensation and internationally renowned author—rupi kaur's milk and honey celebrates the challenges and triumphs facing the modern woman. In strikingly personal, yet widely relatable poems accompanied by original illustrations, kaur challenges the idea that women should be quiet, gentle, and submissive and instead encourages women to be strong, powerful, and proud. Each of the four chapters ("the hurting," "the loving," "the breaking," and "the healing") serves a different purpose and explores the many kinds of pain and healing of life's experiences. From breakups to trauma, kaur leads readers through life's most bitter moments to find their hidden sweetness.
 
Paired with milk and honey in this exquisite boxed set: the sun and her flowers, a vibrant and transcendent journey about growth and healing. Ancestry and honouring one's roots. Expatriation and rising up to find a home within yourself. Divided into five chapters and illustrated in kaur's signature style, the sun and her flowers is a journey of wilting, falling, rooting, rising, and blooming. A celebration of love in all its forms.  
 
About the Author
---
A breakout literary phenomenon and #1 New York Times Bestselling Author, Rupi Kaur wrote, illustrated, and self-published her first poetry collection milk and honey in 2014. Next came its artistic siblings the sun and her flowers and home body, both debuting at #1 on bestseller lists across the world. These collections have sold more than 11 million copies and have been translated into over 43 languages. In 2022, she released her fourth book Healing Through Words which is a journey of guided writing exercises to help the reader explore their creativity.

As she has done from the very beginning, Rupi self-produced Rupi Kaur Live, the first poetry special of its kind, which debuted on Amazon Prime Video in 2021.

Rupi Kaur graces stages across the globe on sold-out world tours. These shows are a poetic theatrical experience interlaced with her own touch of stand-up. Her work touches on love, loss, trauma, healing, femininity, and migration. She feels most at home when creating art, performing her poetry onstage, and spending time with family and friends.