The Good Advice Cupcake 2020 Wall Calendar (Calendar)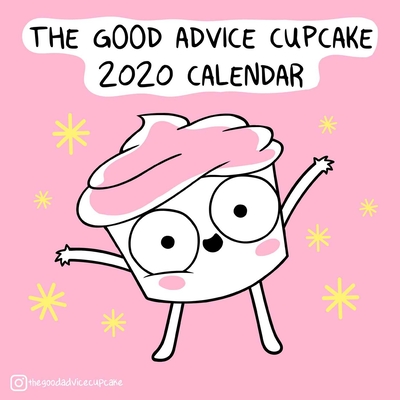 Description
---
For fans of Cuppy––the internet's favorite animated confectionary badass––The Good Advice Cupcake 2020 Wall Calendar is a must-have for your bedroom, kitchen, dorm room, or office.
BuzzFeed creators Loryn Brantz and Kyra Kupetsky contrast Cuppy's cute Pusheen-like aesthetic with the character's mouthy life advice, the theme being: "Believe in Yourself, B*tch." And that's the kind of in-your-face encouragement we all need even if we can't afford to hear it from an IRL therapist!
The calendar features thirteen pieces of full-color artwork––including new seasonal scenes, slice-of-life observations, sometimes swear-y advice, and Cuppy's adorable baked-good friends, plus a bonus spread for September–December 2019 to accommodate school-year planning or fans who just can't wait to hang up their new calendar.
Generous grids provide space to add appointments and reminders
Includes widely celebrated and nationally recognized holidays and observances for the United States, Canada, United Kingdom, Australia, and New Zealand as well as major world religions.
Plus, pre-planning for September–December 2019