ZWEIHANDER RPG: Player's Handbook (Hardcover)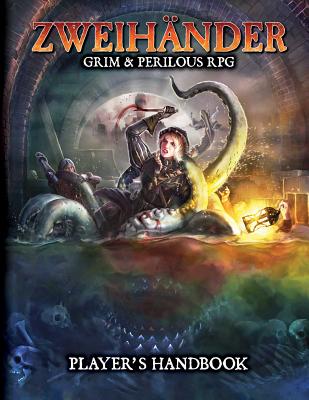 $49.99
Email or call for price
Description
---
EVERYTHING A PLAYER NEEDS TO CREATE A CHARACTER FOR ZWEIHÄNDER RPG.

Abridged from the first ten chapters of ZWEIHÄNDER RPG: Revised Core Rulebook, this book contains everything you need to create a character: from professions & advancement to backgrounds & skills, for intrigue & combat, to exploration & trappings, and magic spells & rituals.
 
Using this book, you will embroil your character in low fantasy & dark fantasy adventures, inspired by the worlds of Bloodborne, Elden Ring, Game of Thrones, The Witcher, Solomon Kane, Black Company, and other Renaissance-styled fantasy horror works.
 
With 72 professions, 43 expert professions, 10 ancestries, numerous backgrounds, a myriad of weapons, character sheets in both horizontal & vertical format, and over 160 magick spells & rituals, you'll have countless ways to create your vision of a grim character ready to embark upon perilous adventures.
 
About the Author
---
Daniel D. Fox is a game designer and winner of two gold ENNIE Awards at Gen Con for Best Game and Product of the Year with his fantasy horror game ZWEIHANDER RPG. He has since created Main Gauche, Dark Astral, Flames of Freedom Grim & Perilous RPG, Fever Knights RPG, ZWEIHANDER Fantasy Horror RPG Starter Kit, and produced Blackbirds RPG, Eternal Night of Lockwood, and To Be Or Not To Be A Villain. When Daniel isn't designing tabletop role-playing games or board games, he's enjoying his other favorite hobby: cafe racer motorcycles. He lives in the City of Fountains with his wife Ali and their two young kobolds.