Slothilda 2021 Wall Calendar (Calendar)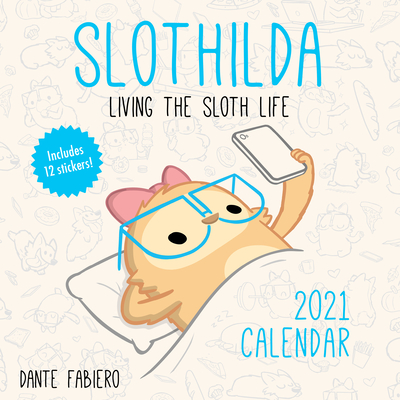 Description
---
If you're a fan of doughnuts, the Internet, and naps, then Slothilda is your kindred spirit!
Based on the web comic and book of the same name, the
Slothilda 2021 Calendar
 features adorable, full-color illustrations of an ambitious little sloth who'd rather just take it easy. Lighthearted and optimistic, it's relatable to those dealing with the inner struggle of improving themselves despite the temptation to eat, sleep, and lounge. 
Features include:
Sheet of 12 Slothilda stickers
Bonus spread for September-December 2020 to accommodate school-year planning
Generous grid space for notes
Official major world holidays
About the Author
---
Dante Fabiero is an animator and author based out of Los Angeles, CA.

After graduating from the University of Southern California, Fabiero landed his first job as an animator on "The Simpsons." Since then he has taken on multiple roles within the industry creating animation for TBS, Netflix, Fox, and YouTube. Currently he works as an animator on the Netflix series, Disenchantment.

In 2014 Fabiero started an online comic series about a sleepy little sloth named Slothilda. Since then his comics have garnered close to half a billion views on the popular GIF sharing platform, Giphy. You can see Slothilda come to life and subscribe to receive future comics for free at www.SLOTHILDA.com.