Martha Stewart's Pressure Cooker: 100+ Fabulous New Recipes for the Pressure Cooker, Multicooker, and Instant Pot® : A Cookbook (Paperback)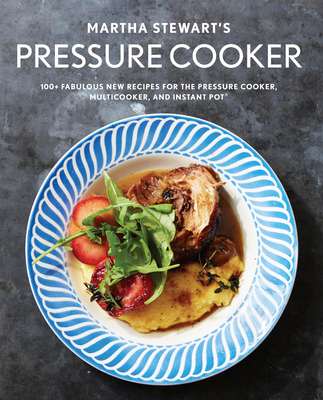 Description
---
An essential guide for your beloved, time-saving pressure cooker divided into three parts: a beginner-friendly section of pressure-cooked building blocks like beans, stocks, grains, and vegetables that can be assembled into simple dishes, such as salads, soups, quesadillas, burgers, and more; a chapter of 40+ hearty main courses made start to finish in the pot; and a final chapter of desserts cooked entirely in the appliance. Recipes include instructions for both types of pressure cookers (stovetop and electric), including the cult favorite Instant Pot®.

The kitchens of Martha Stewart present an authoritative volume packed with brilliant, effortless recipes that yield maximum flavor and require minimal time. Every recipe is rigorously tested, beautifully photographed, and will work for any type of pressure cooker. If you're new to pressure cooking, this book makes the experience foolproof and fearless.

Perfect for beginners, the book begins with staples that traditionally require long cooking times, such as whole grains, dried beans, and stocks, that are finished much more quickly in the pressure cooker. In this first chapter, you'll find the master cooking techniques for these affordable, accessible ingredients -- the results become building blocks for many creative recipes and meal prep, ready to be transformed into countless, easy meals that will serve you throughout the week. The rest of the book is full of one-pot recipes -- dishes that once seemed like long weekend affairs or were too labor intensive to muster on a weeknight are now ready in a flash: braised short ribs that fall off the bone after only an hour; rich pork and pinto bean chili made with dried beans, no pre-soaking required; and a creamy, perfectly cooked risotto ready in six minutes, without constant stirring. Demonstrating the incredible versatility of the appliance, Martha Stewart's Pressure Cooker has a sweet ending -- a chapter devoted solely to desserts, such as cakes, puddings, and more.
About the Author
---
Martha Stewart Living magazine was first published in 1990. Over the years, more than two dozen books have been published by the magazine's editors.