A False Report: A True Story of Rape in America (Hardcover)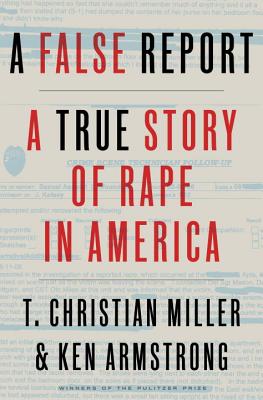 for information about purchasing this book, please contact orders@bookpassage.com
Description
---
Now the Netflix Limited Series Unbelievable, starring Toni Collette, Merritt Wever, and Kaitlyn Dever • Two Pulitzer Prize-winning journalists tell the riveting true crime story of a teenager charged with lying about having been raped—and the detectives who followed a winding path to arrive at the truth.
 
"Gripping . . . [with a] John Grisham–worthy twist."—Emily Bazelon, New York Times Book Review (Editors' Choice)
 
On August 11, 2008, eighteen-year-old Marie reported that a masked man broke into her apartment near Seattle, Washington, and raped her. Within days police and even those closest to Marie became suspicious of her story. The police swiftly pivoted and began investigating Marie. Confronted with inconsistencies in her story and the doubts of others, Marie broke down and said her story was a lie—a bid for attention. Police charged Marie with false reporting, and she was branded a liar. 

More than two years later, Colorado detective Stacy Galbraith was assigned to investigate a case of sexual assault. Describing the crime to her husband that night, Galbraith learned that the case bore an eerie resemblance to a rape that had taken place months earlier in a nearby town. She joined forces with the detective on that case, Edna Hendershot, and the two soon discovered they were dealing with a serial rapist: a man who photographed his victims, threatening to release the images online, and whose calculated steps to erase all physical evidence suggested he might be a soldier or a cop. Through meticulous police work the detectives would eventually connect the rapist to other attacks in Colorado—and beyond.

Based on investigative files and extensive interviews with the principals, A False Report is a serpentine tale of doubt, lies, and a hunt for justice, unveiling the disturbing truth of how sexual assault is investigated today—and the long history of skepticism toward rape victims. 
 
About the Author
---
T. Christian Miller joined ProPublica as a senior reporter in 2008. Before that, he worked for the Los Angeles Times, where he covered politics, wars, and was once kidnapped by leftist guerrillas in Colombia. His first book, Blood Money: Wasted Billions, Lost Lives, and Corporate Greed In Iraq was called one of the "indispensable" books on the war. He teaches data journalism at the University of California at Berkeley and was a Knight Fellow at Stanford University.
 
Ken Armstrong, who joined ProPublica in 2017, previously worked at The Marshall Project and Chicago Tribune, where his work helped prompt the Illinois governor to suspend executions and empty death row. His first book, Scoreboard, Baby, with Nick Perry, won the Edgar Allan Poe Award for non-fiction. He has been the McGraw Professor of Writing at Princeton and a Nieman Fellow at Harvard.
 
They have both won numerous awards, including a 2016 Pulitzer Prize for their article "An Unbelievable Story of Rape," written for ProPublica and The Marshall Project.
Praise For…
---
"This is a deep, disturbing, compelling, important book. A False Report digs into timeless issues—crime, victimhood, honesty, sexism—which have never been more timely. It is also a fascinating, sharply written story that will twist and surprise you." —Susan Orlean, author of The Orchid Thief and Rin Tin Tin
 
"America has never adequately addressed sexual violence, a tragedy made worse by many who employ their own hierarchy of victimization, leaving many women and vulnerable people unaided. This meticulously researched, powerful exposé eliminates ignorance as a defense. This is a devastating but necessary read, composed by masters of investigative journalism."—Bryan Stevenson, author of Just Mercy

"A captivating page-turner... There's a gripping "you are there" immediacy as crackerjack officers and criminalists pore over scant evidence—a wisp of skin left on a stuffed animal, videos of a white truck canvassing apartment complexes—before finally homing in on their man.... It would be all too easy to compare the book to a Grisham novel or an episode of Law & Order: SVU, but to do so would trivialize its achievement. A False Report is framed as a police procedural but illuminates the agonizing realities of rape culture as well as the fractures in our criminal justice system.... Rich in forensic detail, deftly written and paced, A False Report is an instant true-crime classic, taking its rightful place beside Vincent Bugliosi's Helter Skelter and Dave Cullen's Columbine."—The Minneapolis Star Tribune

"An important piece of journalism... The authors' exhaustive research brings to life not only Marie and other victims, but also the police and other authorities who are devastated by their own mistakes... Even in the relatively enlightened 21st century, A False Report reminds us there is no standard response to trauma."—Associated Press

"Chilling... A False Report will fascinate readers interested in the finer points of police procedure... An especially timely work."—Seattle Times

"A riveting true-crime story."—O: The Oprah Magazine

"Miller and Armstrong excavate a disturbing strain of misogyny in American culture in this account of the mistreatment of victims of sexual assault in the criminal justice system…[A False Report] shines a critical light on an urgent and timely subject."—Publishers Weekly (starred review)

"The authors describe how [several] cases come together in a highly suspenseful (chapters often end in cliffhangers) and thorough manner that still considers the victims and avoids gratuity… This timely, well-researched, highly readable account will appeal to readers interested in true crime and social justice issues."—Booklist (starred review)

"Chilling…The authors display meticulous investigative reporting skills... A riveting and disturbing true-crime story that reflects the enduring atrocity of rape in America."—Kirkus Reviews

"With the #MeToo movement maintaining momentum, the timing could not be better for A False Report."—Bustle

"In prose that rivals that of a suspense novel, two Pulitzer Prize-winning journalists describe the tragic effects skepticism can have on victims of sexual assault"—Ms. Magazine

"If you're a fan of true crime, this book should definitely be on your reading list."—Bitch Media

"More vivid and urgent than any Law & Order: Special Victims Unit episode... veteran reporters Miller and Armstrong vividly portray the characters in this serpentine drama and emphatically detail how the investigation of sex crimes and the treatment of victims have evolved. The result is a chilling true-crime story that is also a powerful critique of a flawed system."—The National Book Review

"A revelation—taut, nuanced, and expertly reported."—New York Post

"This astonishing piece of journalism reveals the disturbing truth about how sexual assault is investigated and the long history of skepticism toward rape victims."—Book Riot

"A False Report is a reporting triumph: a heartbreaking deep dive into a case gone horribly wrong; a bone-chilling portrait of a monstrous criminal; and a forceful cri de coeur on behalf of those victims whose claims fall on deaf ears. You'll never read another crime story quite like it."— Robert Kolker, author of Lost Girls
 
"Miller and Armstrong show how gender bias, and the many myths about sexual assault, still have far too much influence in the way law enforcement investigates these crimes. This harms victims and allows perpetrators to go free, potentially to commit additional assaults. But this brilliant book is also a thrilling depiction of an investigation gone right, showing us how good police work, informed by the latest research, can achieve justice for victims of sexual violence. Well-researched and compassionate, A False Report is essential reading for police, prosecutors, and lawmakers, and for all those seeking to do better for victims of sexual assault."—Joanne Archambault, CEO of End Violence Against Women International
 
"A False Report is a gripping and often devastating tale. By bringing their characters alive, Miller and Armstrong do not judge so much as illuminate the deep sexism that continues to pervade our society's treatment of rape. Better still, the women in this book are strong protagonists as much as victims."—Anne-Marie Slaughter, president and CEO of New America; author of Unfinished Business

"Far too many women and girls who are sexually assaulted never report it—often out of fear they won't be believed. A False Report reveals the true cost of doubting women's accounts of rape. This fascinating, deeply troubling book has the power to spark a national conversation about how our criminal justice system fails victims, and how it can be reformed."—Peggy Orenstein, author of Girls & Sex

 "This is a grim, important, meticulously reported book that denounces breakdowns in the system of investigating crimes against women. The revelations are tragic, unthinkable, almost Kafkaesque. But the authors don't stop at outrage. They do a public service by explaining practical reforms that can make a profound difference. And they tell their story with unrelenting clarity and compassion. A False Report has all the detail, drama, and humanity that make the finest nonfiction as compelling as a novel."—Sebastian Rotella, author of Rip Crew