Attention: A Love Story (Hardcover)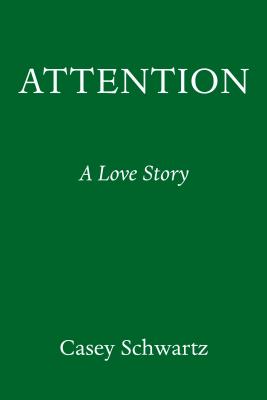 $26.95
Email or call for price
Description
---
"A rich inquiry into what it means to pay (and maintain) attention in a world increasingly permeated with distraction and interference." —Publisher's Weekly

Combining expert storytelling with genuine self-scrutiny, Casey Schwartz details the decade she spend taking Adderall to help her pay attention (or so she thought) and then considers the role of attention in defining our lives as it has been understood by thinkers such as William James, David Foster Wallace, and Simone Weil. From our craving for distraction to our craving for a cure, from Silicon Valley consultants and psychedelic researchers to the findings of trauma expert Dr. Gabor Maté, Schwartz takes us on an eye-opening tour of the modern landscape of attention.
 
Blending memoir, biography, and original reporting, Schwarz examines her attempts to preserve her authentic life and decide what is most important in it. Attention: A Love Story will resonate with readers who want to determine their own minds, away from the siren call of their screens.
About the Author
---
CASEY SCHWARTZ is the author of Attention: A Love Story and In the Mind Fields: Exploring the New Science of Neuropsychoanalysis. She contributes regularly to The New York Times and lives in New York City.
Praise For…
---
"Casey Schwartz's new book, out in April, is helping me reevaluate my relationship with screens at a moment when I've never been more dependent on them ... Closing the laptop, putting the phone in the other room, and curling up with this book has been the best part of my day."—Vanity Fair

"Attention: A Love Story had me rapt. Casey Schwartz is a formidable reporter, a rigorous researcher and a true artist of prose. She makes complicated information easily understood and elevates seemingly simple observations to a richer plain of meaning. More than that, though (and this is the toughest job in the business) she is an honest broker when it comes to telling her own story. Unflinching yet never confessional, this book took me to uncomfortable places but always in the most capable hands. It's the finest of its kind I've read in ages."—Meghan Daum, author of The Problem With Everything: My Journey Through The New Culture Wars

"An extraordinary and moving treatment of that most ineffable of topics: our own attention and how we spend it.  Schwartz has successfully mixed her own experiences with Tom Wolfe-like journalism to create an utterly engaging read."—Tim Wu, author of The Attention Merchants

"Schwartz's book brims with ideas ... Schwartz is unusually self-aware, though she may not always think so. She is honest about her own vulnerabilities and self-doubt ... By personalizing her account, and her journey, she makes it a vivid, memorable thing, not simply instructive."—Post and Courier 

"An antidote to the countless manuals devoted to attention-hacking and technology detox, the tired denouncements of our iPhone dependence ... It is consistently interesting and beautifully written."—New Statesman
 
"An insightful hybrid of memoir and academic study ... Thought-provoking ... This is a rich inquiry into what it means to pay (and maintain) attention in a world increasingly permeated with distraction and interference."—Publisher's Weekly

"A personal and professional study of the struggle with attention in an age of distraction ...  Unfailingly honest ... By personalizing her account, and her journey, [Schwartz] enhances the book's potency without diluting its authority ... Being attentive is an acquired skill. Schwartz helps us think deeply and clearly about what it offers us."—Kirkus Reviews (starred review)
 
"Essential ... Attention: A Love Story asks two simple questions: 'Why are we so susceptible to all the escape routes our technologies offer us in the first place?' and 'What are we fleeing?'"—Bitch Media

"With fascinating research and illuminating interviews, this is ruminative, provocative, and discussion worthy."—Booklist