The Better Brain Solution: How to Start Now--at Any Age--to Reverse and Prevent Insulin Resistance of the Brain, Sharpen Cognitive Function, and Avoid Memory Loss (Hardcover)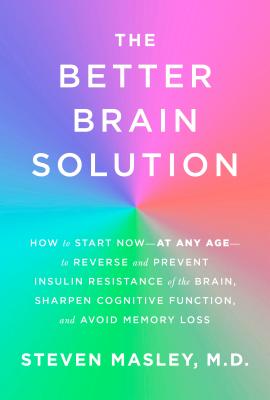 $27.95
Email or call for price
Description
---
In this step-by-step guide to enhancing cognitive function and fighting—and even reversing—memory loss, Dr. Steven Masley (bestselling author of The 30-Day Heart Tune-Up) lays out a four-pillar diet-and-lifestyle approach to improving brain health, focusing on food, nutrients, exercise, and stress management.

Based on more than a decade of clinical research, The Better Brain Solution provides the tools you need to fight back. Here, Dr. Masley explains exactly how changes in the way you eat and live can reverse elevated blood sugar levels and in the process improve cognitive performance and avert memory loss. Research has shown that insulin resistance, a condition that can lead to diabetes, can also cause memory loss and dementia, including Alzheimer's disease.

Plus fifty delicious, easy-to-prepare recipes specially designed for optimal brain and body health, along with a practical way to assess cognitive function, and much, much more.
About the Author
---
STEVEN MASLEY, MD, is a physician, nutritionist, trained-chef, and author. He is a fellow with the American Heart Association, the American College of Nutrition, and the American Academy of Family Physicians. He has helped thousands of patients improve their cognitive function, and prevent and reverse type II diabetes and heart disease. His clinical research focuses on the impact of lifestyle choices on brain function, heart health, and aging.

Masley has published several best-selling books: The Better Brain Solution, The 30-Day Heart Tune-Up, Ten Years Younger, Smart Fat, and numerous scientific articles that have appeared in The Journal of the American College of Nutrition, Integrative Medicine, JAMA, The American Family Physician, and The Journal of Clinical Psychology. His health programs have been seen on PBS, the Discovery Channel, and the Today Show.

Dr. Masley is a Clinical Associate Professor with the University of South Florida. He lives with his wife and two sons in St. Petersburg, Florida, where he heads the Masley Optimal Health Center.
Praise For…
---
Excitement about Steven Masley's
THE BETTER BRAIN SOLUTION

"Full of practical advice, backed up by medical evidence, that will lead to a healthier brain, even as we age. The Better Brain Solution provides a simple approach to keeping your brain supple and functional. Reading this book could have a major impact on how you age well and delay the effects of aging on your brain. Worth reading."--Bill Burnett, co-author of Designing Your Life
"Superb . . . Masley's elegant book just may save your life!"--Howard Markel, author of The Kelloggs, The Battling Brothers of Battle Creek
"In a world facing an epidemic of early-onset dementias, anyone over 40 should protect their brain. Dr. Steven Masley's command of the scientific literature is easy for a layperson to understand, and the plan he lays out is revolutionary, and it works!"--Robyn Openshaw, author of Vibe: Unlock the Energetic Frequencies of Limitless Health, Love & Success
"Alzheimer's, dementia, and cognitive decline are all relentlessly gaining ground. Our brains are under constant attack--what to do? Take control! Dr. Masley expertly shows you how in this important new book."--Dr. Joseph Pizzorno, ND, author of The Toxin Solution
"Well done... awesome... superb--just a few adjectives to describe Dr. Masley's The Better Brain Solution! A timely book in the toxic times we live in. Masley acutely portrays proven remedies and solutions that will help support and protect the delicate and vulnerable tissues of your brain and even your heart. I loved reading The Better Brain Solution and totally agree with its insightful messages."--Dr. Stephen Sinatra, MD, Cardiologist, and co-author of Heath Revelations from Heaven

"An authoritative, user-friendly book. Dr. Masley not only addresses insulin resistance, the most common metabolic contributor to cognitive decline, he also addresses the many other potential contributors. Highly recommended for anyone interested in protecting his or her brain."—Dale Bredesen, MD, best-selling author, The End of Alzheimer's  

"The Better Brain Solution draws upon what our most well respected researchers in the neurosciences are now publishing—Alzheimer's disease, a disease for which there is no effective treatment, may well be prevented. Masley rightly challenges the notion that we should simply wait for the "magic bullet" as it relates to Alzheimer's. His recommendations will undoubtedly change the brain health destiny for any reader who follows his advice."
—David Perlmutter, author of Grain Brain
 
"Dr. Masley shows us how brain and heart health are intimately connected and gives us the tools to correct insulin resistance, which will enhance brain function, prevent memory loss, and protect the heart. An important, essential and welcome book."
—Daniel G. Amen, author of Change Your Brain, Change Your Life
 
"In this smart, well-researched and urgently needed book, Dr. Masley gives us a clear, realistic plan to restore blood sugar, cope with insulin resistance in the brain, and boost cognitive function. Whatever your age, you need this book."
—J. J. Virgin, author of The Sugar Impact Diet