Gastro Obscura: A Food Adventurer's Guide (Atlas Obscura) (Hardcover)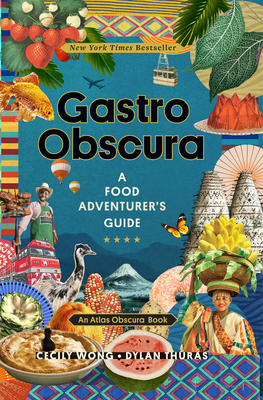 Description
---
Taste the World!

It's truly a feast of wonder: Created by the ever-curious minds behind Atlas Obscura, this breathtaking guide transforms our sense of what people around the world eat and drink. Covering all seven continents, Gastro Obscura serves up a loaded plate of incredible ingredients, food adventures, and edible wonders. Ready for a beer made from fog in Chile? Sardinia's "Threads of God" pasta? Egypt's 2000-year-old egg ovens? But far more than a menu of curious minds delicacies and unexpected dishes, Gastro Obscura reveals food's central place in our lives as well as our bellies, touching on history–trace the network of ancient Roman fish sauce factories. Culture–picture four million women gathering to make rice pudding. Travel–scale China's sacred Mount Hua to reach a tea house. Festivals–feed wild macaques pyramid of fruit at Thailand's Monkey Buffet Festival. And hidden gems that might be right around the corner, like the vending machine in Texas dispensing full sized pecan pies. Dig in and feed your sense of wonder.
"Like a great tapas meal, Gastro Obscura is deep yet snackable, and full of surprises. This is the book for anyone interested in eating, adventure and the human condition." –Tom Colicchio, chef and activist
"This exquisite guide kept me at the breakfast table until dinner time." –Kyle Maclachlan, actor and vintner
 
About the Author
---
Cecily Wong is a writer at Atlas Obscura, and the author of the novel Diamond Head, a Barnes & Noble Discover Great New Writers selection, recipient of an Elle Readers' Prize, and voted a best debut of the Brooklyn Book Festival. She lives in Oregon.

Dylan Thuras is the cofounder and creative director of Atlas Obscura. He lives in Rosendale, NY.

Atlas Obscura is the definitive guide to the world's hidden wonders. Based on the community-driven, editor-curated website atlasobscura.com, Atlas Obscura uncovers unusual and overlooked places not found in your average guidebook. Cofounders Joshua Foer and Dylan Thuras are two of the authors of the # 1 New York Times bestselling book Atlas Obscura: An Explorer's Guide to the World's Hidden Wonders.
Praise For…
---
"[An] encyclopedic odyssey... This compendium is a must-have."
—​Publishers Weekly, starred review 
"[
Gastro Obscura
is a] hard-to-put-down book... Pick a region, pick a page—you can't go wrong. Armchair travelers and foodies will be left hungry, nostalgic, more knowledgeable about dishes from all over, and, most importantly, ready to try something different, whether it's found around the corner or across the world."
—​
Library Journal 
"Irresistible." —Booklist 

"A tome to be savored" - Foreward Reviews
"This captivating book celebrates the incredible global diversity of food, ingredients, and cooking practices. What could be more important in this moment in time than to be so delightfully engaged in the many ways food cultivates—through sometimes eccentric means!—a profound sense of togetherness." —Alice Waters, chef and author of
We Are What We Eat: A Slow Food Manifesto
"An ambitious, exciting, and zany anthology of heritage foodways, Gastro Obscura tells the stories no one else is telling. In creating a magnum opus that manages to be simultaneously daring as well as fundamentally delicious, this is a culinary high-wire act of culinary anthropology that delivers on its promise and then some. A must-read for anyone who eats." —Dan Barber, chef and author of
The Third Plate 
"This book is an incredible celebration of diversity – the many fascinating ways that humanity has figured out how to feed itself. To me, it is really about preservation, the power and importance of remembering old customs and local traditions in order to help us better understand our world today … and into the future." —José Andrés, chef, restaurateur, and founder of World Central Kitchen 
"Like a great tapas meal,
Gastro Obscura
 is deep yet snackable, and full of surprises. In these pages, you'll find riveting stories of human culture ancient and present, history, climate, mythology, commerce and geography -- all through the lens of that thing you thought you already knew: food.  This is 
the
 book for anyone interested in eating, adventure and the human condition." —Tom Colicchio, chef and activist  
"Thumbing through this exquisite guide kept me at the breakfast table until dinner time." —Kyle Maclachlan, actor and vintner