How to Instant Pot: Mastering All the Functions of the One Pot That Will Change the Way You Cook - Now Completely Updated for the Latest Generation of Instant Pots! (Paperback)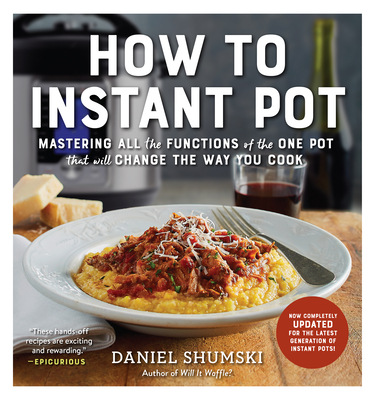 $18.95

Usually Ships in 1-5 Days
Description
---
Demystifying the revolutionary appliance one function at a time
—
now updated to include the latest generation of Instant Pots!
Cooking in an opaque, sealed container with complicated buttons and lights requires a culinary leap of faith—or an expert guide like Daniel Shumski. In
How to Instant Pot
, he not only teaches you how to master each of this miracle device's key functions, but offers more than 100 recipes specially crafted to take advantage of its many virtues. Plug it in and don't look back!
Includes recipes for:
Beef Barbacoa Tacos
Lemon-Chocolate Bread Pudding
French Onion Soup
Tender Pressure-Cooker Pork Shoulder
Plus: convert your favorite recipes for the Instant Pot!  
About the Author
---
Daniel Shumski, author of Will It Waffle? and Will It Skillet!, is a writer and editor who has hunted ramen in Tokyo for the Washington Post and tracked down ice cream in Buenos Aires for the Los Angeles Times. He lives in Montreal.

 
Praise For…
---
"[Shumski's] finest cookbook to date… This approachable title reveals a path to faster, less laborious meals. Highly recommended" —Library Journal
 
"A fantastic new collection of Instant Pot recipes." —Food Republic

"these hands-off recipes are exciting and rewarding." —Epicurious

"Dan Shumski truly understands the home cook: How to Instant Pot answered questions I didn't even know I had for an appliance I wasn't sure where to start with. [It] makes me feel like my funny BFF is right there in my sauce-spattered kitchen, talking me through every dish." —Emily Wight, author of Well Fed, Flat Broke: Recipes for Modest Budgets and Messy Kitchens and Dutch Feast

"How to Instant Pot is everything you wish was in the Instant Pot manual, and so much more. This easy-to-read cookbook demystifies each preset on the Instant Pot and offers plenty of approachable yet sophisticated recipes for each function. How to Instant Pot is the key to making sure you get the most out of this versatile machine." —Beth Moncel, author of Budget Bytes: Over 100 Easy, Delicious Recipes to Slash Your Grocery Bill in Half

"Daniel Shumski, the indisputable king of appliance cookbooks, has done it again with How to Instant Pot. Timely, ingenious, and thoroughly researched, with instructions so clear, your 8-year-old can execute the recipes with ease and panache. Dan's wit and insightful tips spice up recipes that are innovative, flavorful, and practical. I'm jealous that I didn't think of this idea!" —Raghavan Iyer, President, Board of Directors at IACP

"This is the book Instant Pot owners have been waiting for! In a perfect world, it would be tucked inside the box of every new Instant Pot." —Christy Jordan, SouthernPlate.com